New SilverStone Sugo SG04 Case for Small Form Factor Systems
For those of you into microATX cases and LAN party systems, we have added a very nice case that fits both categories. The SilverStone Sugo SG04B might not roll off the tongue with ease, but the case sure has some nice features.
First off, it accepts full sized ATX power supplies up to 1200 watts. Is 1200 watts needed in such a system? Well no, but at least you can brag about it later on. Another great feature is the carrying handle up top. Those handles make it so much easier to carry a system to LAN parties or too a friend's house. Another great feature is the ability to accept full sized graphic cards. I have seen many mATX cases fail in this department. You cannot make a LAN party system unless you have the biggest and beefiest video card out there.
Sugo represents exquisiteness with its line of beautifully crafted small but powerful SFF chassis, and SilverStone's Sugo SG04 is certainly an exquisite chassis. With the pervious venerable Sugo SG03 model as the starting point, the SG04 improves every aspect of the former case from specification to user impression. With additional expansion slots and reversible power supply unit installation design, SG04 owns a superior cooling performance which can support operating dual graphic card (10.5 inch) within it. Adjustable fan positions enable users to devise their own cooling layout as required with the front door helping to reduce noise effectively. Packing with thoughtful features, the SG04 is truly worthy of living up to become another benchmark SFF enclosure.
Features
Room for two 120mm cooling fans
Cooling capable of supporting dual CPU motherboard
Support dual 10.5" graphics card
Amazing expansion capability
Support 1000W power supply
Compatible with all optical drive up to 210mm
Top mounted die-cast aluminum handle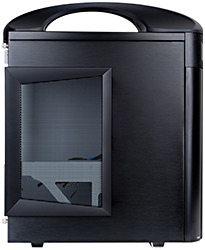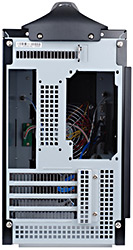 http://www.avadirect.com/product_details_parts.asp?PRID=11163