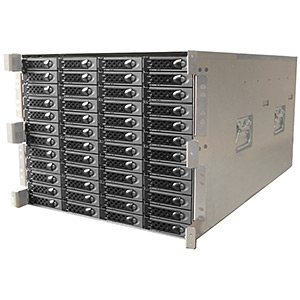 AVADirect Now Sells Massive 8U 100TB Storage Servers
If you thought 1TB was a large amount of storage, now AVADirect now sells a massive 50 drive capable server. With the new 2TB enterprise drives from Seagate and Western Digital, that is a total of 100TB of massive storage capacity.
If you were wondering what the features are of this monster server, see below for the breakdown. We offer both Intel Xeon and AMD Opteron technologies!
AMD Opteron Storage Server
Two Six-Core / Quad-Core AMD Opteron™ 2000 Series (Socket F) support; HT3.0 Link support
nForce Pro 3600 NVIDIA IO-55 Chipset
Up to 64GB DDR2-800/667/533 SDRAM
Dual-port Gigabit LAN/Ethernet Controller
up to 50 hot-swap hard drives with RAID controller upgrade
SIMLP IPMI 2.0 Support
8 Fan Support with Speed Control
SAS or SATA support
Fully redundant power supply for 100% data protection
SATA version starts at $7500 and can be configured here

SAS version starts at $8200 and can be configured here
Intel Xeon 5500 Storage Server
Two Quad-Core Intel Xeon 5500 Nehalem-EP processor support
Intel 5500 chipset
Up to 144GB DDR3-1333 SDRAM
Dual-port Gigabit LAN/Ethernet Controller
up to 50 hot-swap hard drives with RAID controller upgrade
8 Fan Support with Speed Control
SAS or SATA support
Fully redundant power supply for 100% data protection
SATA version starts at $7600 and can be configured here

SAS version starts at $8300 and can be configured here


Edited by MattSlagle - 28 Jul 2009 at 3:22pm