In this blog we review benchmarks of the new AMD Ryzen 5000 series. We compare the AMD Ryzen 9 5950x, Ryzen 9 5900X, Ryzen 7 5800X, and Ryzen 5 5600X to an Intel Core i9-10900K, Intel Core i7-10700K, Intel Core i5-10600K, and the Ryzen 9 3950X. These processors go toe to toe with each other, but which is the best gaming CPU?
Test Hardware:
Cooling:
Custom loop with EK 360x45mm radiator and 6x Corsair SPs in push/pull at 100% speed using EK Velocity CPU block
Motherboards:
Gigabyte x570 Gaming X Bios version F30 (with pre-release AGESA v 1.0.8.1)
Gigabyte Z490 Gaming X Bios version F5
Memory:
G.Skill Flare X 3200mhz Cas 14 2x8gb
Graphics Card:
EVGA RTX 3080 XC3 (stock settings) Driver version 465.55
Operating System:
Windows 10 Pro Version 2004
*All benchmarks ran 3 times over, as long as all results fell within 2% of each other the median was kept (note all testing did go this way, no re-testing was needed)
Processor Comparison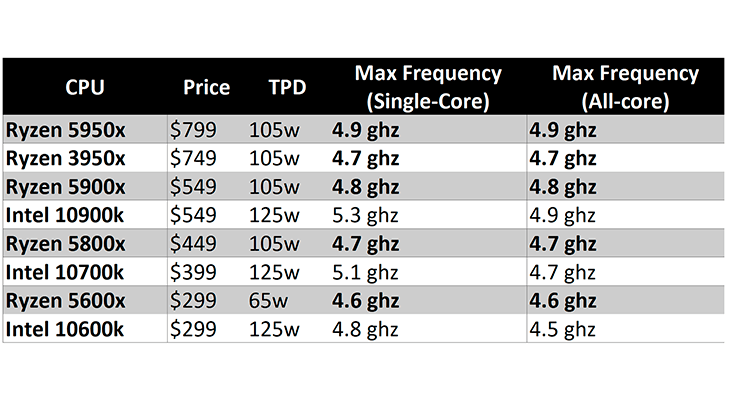 The above chart shows the tested CPUs with their price, total power draw, and highest boost frequency. It's interesting to note that AMD and Intel advertise their boost frequencies a little differently. Intel uses the highest single core performance when advertising for their CPUs, while AMD uses an average of each core's performance. This means that it's not uncommon for AMD CPUs to perform better than the listed frequencies, while Intel CPUs typically just meet the advertised frequency.
Ryzen 5000 Motherboard Support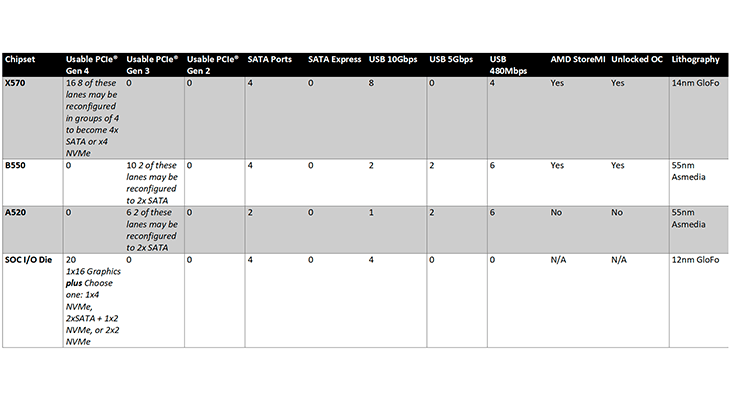 AMD 500 Series chipsets (X570, B550, A520) are the latest-generation chipsets available for the AMD Ryzen 5000 Series, and AMD has no plans to issue new chipsets in support of these processors. Above you will find a table of the supported I/O from each chipset. Support for the 400 chipset-series are expected in Q1 2021.
Ryzen 5000 Series Benchmarks
Geekbench 5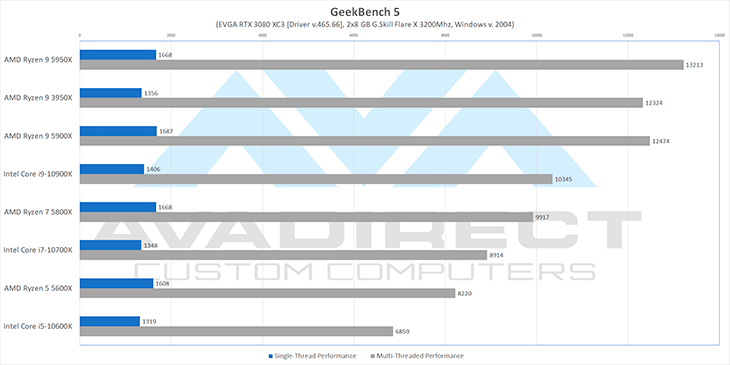 Geekbench 5 allows us to test both single-threaded and multi-threaded performance of the CPUs by going through a lot of general purpose and special use-case algorithms to simulate PC usage in the CPUs. Zen 3 shows roughly a 25% uplift in single-core performance from the previous Ryzen generation. Multi-threaded performance did improve by ~7%, but this result shows that single-core was one of the main improvements from previous iterations of Ryzen.
In regards to Intel CPUs, this generation of Ryzen shows 20% better performance in single-core tasks and 10% increase in multi-core.
Cinebench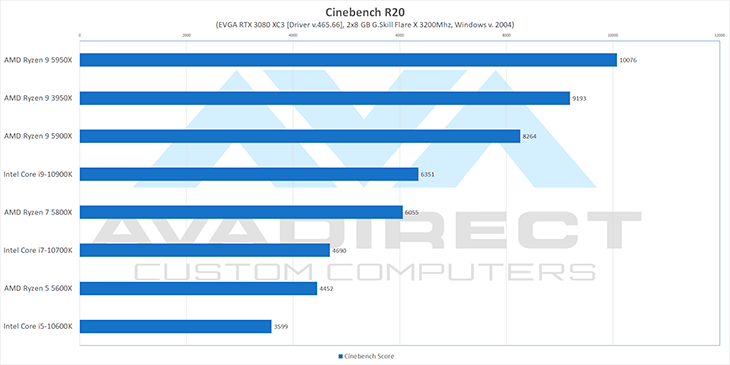 Cinebench runs production-like simulations to show how a PC would perform under a typical workstation task. Our results show a 10% increase in multi-threaded performance from the Ryzen 3000 series. Intel CPUs start to struggle under this test, as comparable Ryzen 5000 offerings show a 20% improvement in these types of tasks than their intel counterparts.
Timespy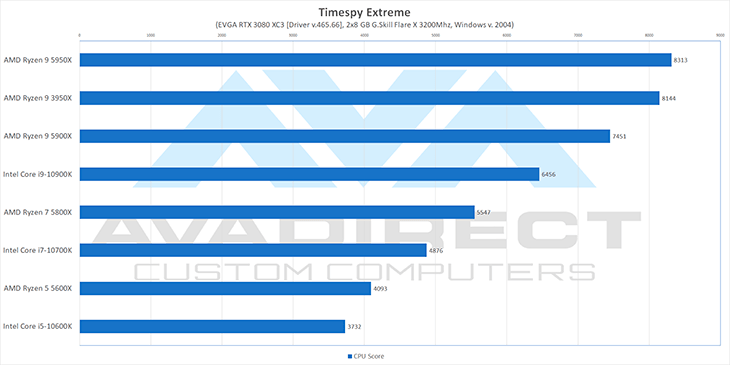 Timespy also tests multi-core performance. Surprisingly, this test doesn't show much improvement from previous generations, despite the significant single-core improvements AMD has made. When compared to 10th Gen Intel CPUs, we're seeing a 10-15% uplift in performance across the board.
Horizon Zero Dawn (Graphic Test)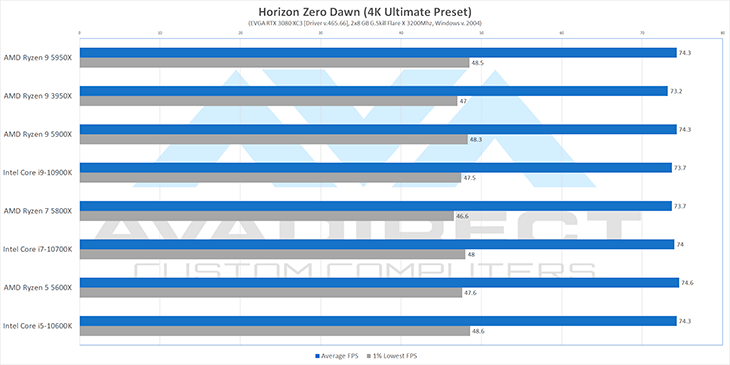 Horizon Zero Dawn (Framerate Test)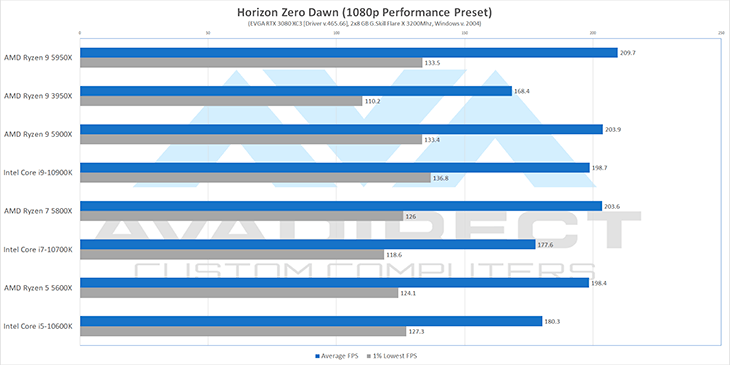 Red Dead Redemption 2 (Graphic Test)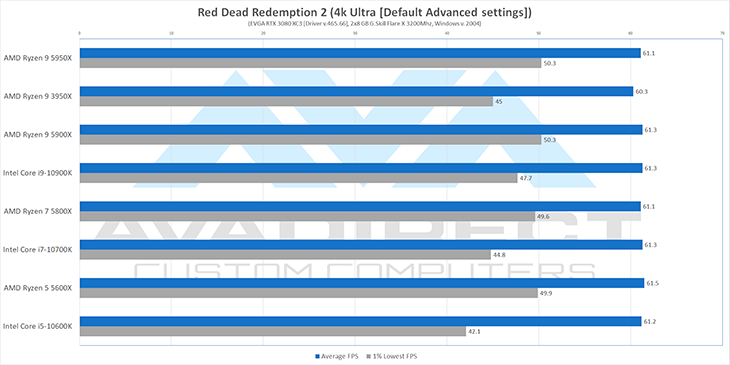 Red Dead Redemption 2 (Framerate Test)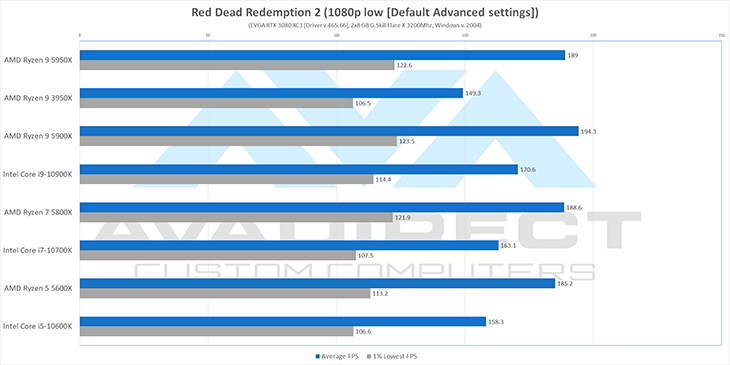 Metro Exodus (Graphic Test)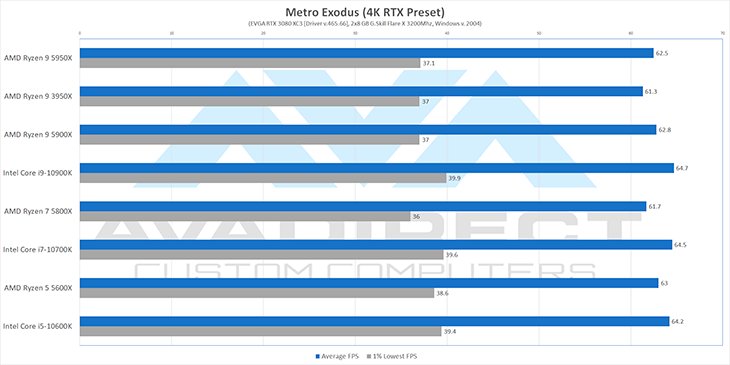 Metro Exodus (Framerate Test [DX12])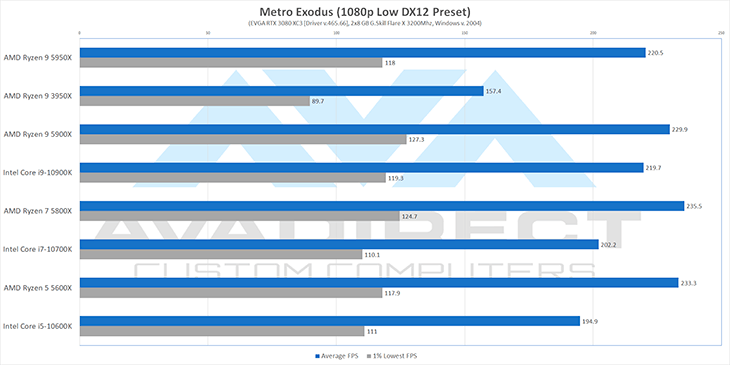 Metro Exodus (Framerate Test [DX11])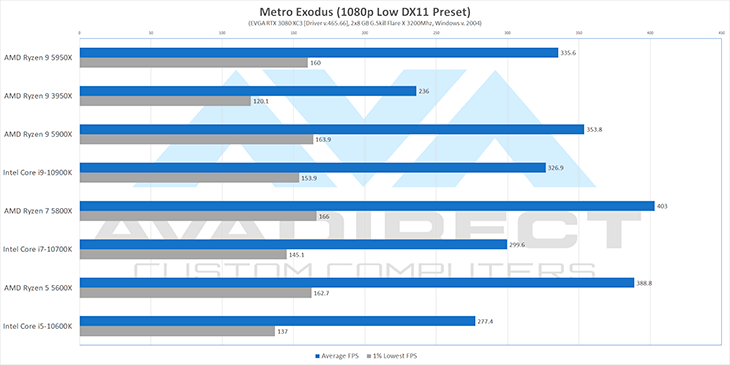 Which is the Best Gaming CPU?
Well, the numbers don't lie. AMD Ryzen's 5000 series beats out the competition in just about every benchmark we ran. With their price for performance, they're an excellent choice for your next gaming PC.