What is a Rugged Laptop?
If you have ever seen a "rugged notebook" before, you will know that these notebooks are built to withstand anything. Not to mention, I personally like the design of them, but that is just me. If you have ever needed a notebook to withstand the harsh winters of our headquarters state, Ohio, or if you can't call it quits on that construction project due to rain, look into investing in a rugged laptop.
DT Research Rugged Laptops and Notebook Solutions
Just recently, we started a partnership with DT Research, a manufacturer that specializes in rugged solutions and peripherals. They specialize in solutions that will fit any scenario, climate, etc. In this article, we are going to showcase some of their products!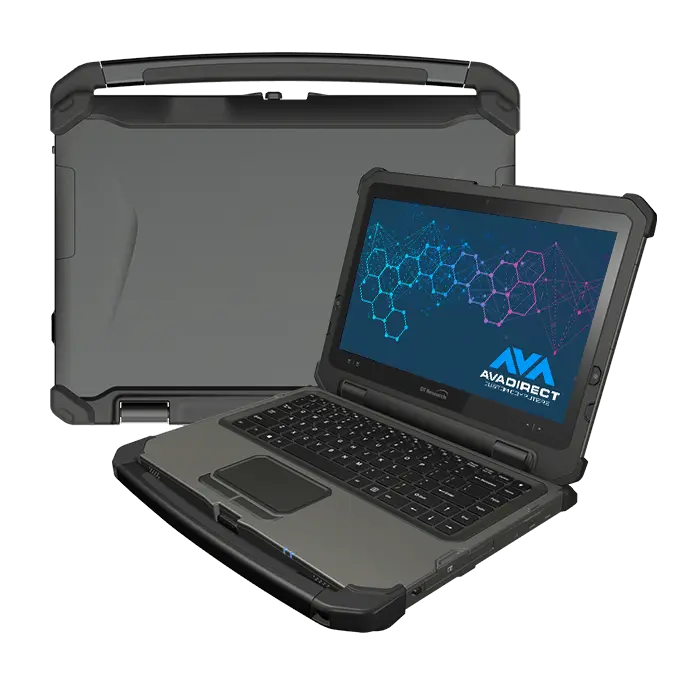 Let's kick it off with the mid-tier unit: DT Research LT330
Equipped with a touch screen, this two in one unit offers a 13.3" screen and a resolution of 1920×1080. Customization options are jammed packed as well, offering up to 64gb of DRR4 SO-DIMM memory support, support for 2 HDD's or SSD's (I would highly recommend SSD's), as well as different CPU options. You have support for hot-swappable batteries to keep you going while you are out and about, as well as a modular design to help support switching out SSD's/HDD's with ease.
This rugged notebook will allow for critical projects to continue despite the climate, heat, weather, etc. With its tablet mode as well, this is a perfect fit for "on the site" jobs that require you to be there, but will allow your notebook to be safe and sound in the event of dropping it, dust on it, rain, sleet, or snow. These units (not just the one we are speaking about) are also HERO (Hazard of Electromagnetic Radiation to Ordnance) certified, as well as MIL-STD-810G certified.
Rugged Laptop Peripherals and Rugged Accessories
Let's move on to some peripherals that DT Research offers, that help enhance your rugged laptop solution and experience!
To start off — The High-Capacity Battery Pack.
This is an absolute must for any user, especially if you will be out and about for long periods of time. They come in 60w or 90w options, however I would strongly recommend the 90w option to ensure longer battery life.
Alongside the battery pack, we have the battery gang charger, which will allow you to charge multiple battery packs at one time. This is ideal to ensure you have backups with you out in the field. This product allows you to charge up to five battery packs at one time.
We also have the digital pen and the USB Type-C I/O Ports station. The digital pen is great for medical and industrial use, allowing you to sign documents in a flash from your notebook. The USB Type-C station is a must these days, with so many external USB products moving over to a USB-C option rather than the traditional USB connectors.
With units like these, I could sit and go on and on, however you really need to experience this in person. These notebooks are not only for military and extreme situational use, but designed for workers in the medical field, industrial field, construction field, anyone who works in a harsh environment that could be detrimental to electronic devices. Be sure to check out our full offerings here!