Shopping for graphics cards can be the most daunting task for anyone, especially because there are so many to choose from. Luckily, we are here to help. We've already talked about the differences between NVIDIA GeForce cards and AMD Radeon cards, but those are just consumer cards. Enter the professional graphics card lines – NVIDIA's Quadro cards and AMD's FirePro and Radeon Pro cards. In this article, we are going to break down some of the basics to help you determine which pro card you need (or don't).
NVIDIA Quadro Cards
NVIDIA has been extremely competitive in their own professional card lines. Since the release of the Pascal architecture this summer, NVIDIA has already incorporated it into two of its Quadro cards – The P6000 and P5000 cards. These cards have 24 and 16 GB of GPU memory respectively, and run faster than their M series. NVIDIA has also been ramping up their professional cards with the new Tesla GPU Accelerator Cards. These cards are designed to help designers and scientists alike to move through more data faster, especially when dealing with deep learning processes such as in the self-driving car technology.
NVIDIA's professional cards are priced above the fold, dramatically. The Quadro M6000 card goes for well over $3000, so decide wisely when needing a professional graphics card. Below you will find a specs chart from NVIDIA, comparing each of their different Quadro cards in terms of performance.
BOARD FEATURES
Quadro
P6000
Quadro
M6000 24GB
Quadro
P5000
Quadro
M5000
Quadro
M4000
Quadro
M2000
Quadro
K1200
Quadro
K620
Quadro
K420
Memory Size
24GB GDDR5X
24GB GDDR5
16GB GDDR5X
8GB GDDR5
8GB GDDR5
4GB GDDR5
4GB GDDR5
2GB DDR3
1 GB/2 GB DDR3
Memory Interface
384-bit
384-bit
256-bit
256-bit
256-bit
128-bit
128-bit
128-bit
128-bit
Memory Bandwidth
Up to
432 GBps
Up to
317 GBps
Up to
288 GBps
Up to
211 GBps
Up to
192 GBps
Up to
106 GBps
Up to
80 GBps
Up to
29 GBps
Up to
29 GBps
NVIDIA® CUDA™ Parallel Processor Cores
3840
3072
2560
2048
1664
768
512
384
192
Max Power Consumption
250W
250W
180W
150W
120W
75W
45W
41W
41W
Power Connector
1 x 8-pin
1 x 8-pin
1 x 8-pin
1 x 6-pin
1 x 6-pin
Number of slots
2
2
2
2
1
1
1
1
1
# Simultaneous Displays
4
4
4
4
4
4
4
4
4
AMD FirePro Cards
The AMD FirePro graphics cards are an innovation in the graphics industry, or at least they were. The FirePro line was originally designed to be used in workstations for professionals needing high processing and quality graphics. Applications for these cards include for CAD, CAM, and creating VR programs and games. These cards work harder and faster than the typical consumer card, but that doesn't make it the best card for high end gamers. In fact, these cards are much more expensive than their Radeon cards, and they are designed for extremely heavy workloads, not just gaming. For example, AMD had three FirePro W600 graphics cards powering 25,000 square foot of high-definition display in New York City's Time Square. It would have taken many more consumer cards to do even a portion of that half-acre display.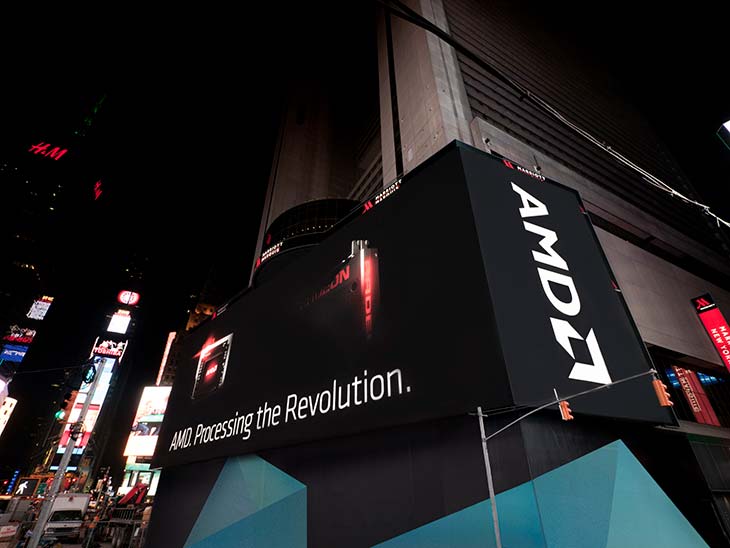 The FirePro line has several different product lines within this branded name. Their most recent is the WX-series, specifically designed for workstations for all professionals. These graphics cards along with the other FirePro cards are "optimized and certified for leading workstation applications" from AMD. This allows engineers, designers, and artists to do their best work with extremely fast graphics, making their workflow faster. These cards use the Graphics Core Next architecture from AMD, and are continuing to make waves in the graphics world, that is until the Radeon Pro cards were released earlier this year.
AMD Radeon Pro
It's been a busy summer, and AMD has been on top of innovation all year. In April of this year, AMD released the brand new Radeon Pro Duo, which was the first card in the new Radeon Pro line. This card uses two liquid cooled Fury X cores, increasing performance across the board and boasting that it is the "fastest graphics card in the world". Below is a graph with the specs for the Pro Duo card from AMD that proves it is unique in its own way.
RADEON PRO DUO

GPU ARCHITECTURE
28nm
API SUPPORT1,2,3
DirectX® 12, Mantle, OpenGL® 4.5, Vulkan™, OpenCL™ 2.0
HIGH-BANDWIDTH MEMORY (HBM)4
Yes
PCI EXPRESS® VERSION5
PCIe 3.0
AMD FREESYNC™ TECHNOLOGY6
Yes
AMD LIQUIDVR™ TECHNOLOGY7
Yes
GPU CLOCK SPEED
up to 1000 MHz
TOTAL MEMORY BANDWIDTH
1,024 GB/s
MEMORY INTERFACE
Dual 4096-bit
MEMORY AMOUNT
8 GB
STREAM PROCESSING UNITS
8192 (128 Compute Units)
REQUIRED POWER SUPPLY CONNECTORS
3×8-pin
Shortly after the Pro Duo's launch, AMD released the brand new Radeon Pro SSG card in July 2016. AMD's chief Architect announced that this new card includes M.2 slots for adding increased power and local storage on the card. Unfortunately, we are going to have to wait until 2017 for this beauty to hit the market.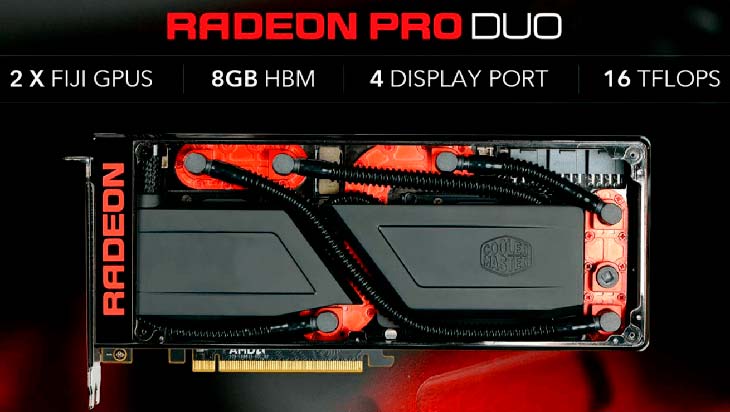 AMD FirePro vs. Radeon Pro Series?
There has been some confusion definitely about both of AMD's professional card brands. There is a simple answer. AMD launched the Pro Duo as the first of the new Radeon Pro line, with the hopes of bridging the gap between professional cards and consumer cards. This line is going to be much more affordable, appealing to a whole new market in terms of professional, including smaller businesses. In addition, the company announced that the Radeon Pro would add the WX series to its lineup. The company decided that rebranding their professional line under the Radeon name would allow it to compete not only with NVIDIA's Quadro and Tesla cards, but also appeal to a new, budget conscious market segment. The FirePro line isn't going away just yet, but AMD will be adding to their Radeon Pro line with a fierceness.
Both AMD and NVIDIA has definitely kept the industry on their toes with all of the new innovation in the past year. Fortunately, they are improving things for the average computer gamer and the professional designer, speeding up work flows and creating the best graphics experience in history. What do you think they will come up with next?