The gift giving season has officially begun and so has this year's Gift Giving Guide. This year we're making the guide bigger and better, with a new segment each week of different tech categories to help create the ultimate guide, built just for you.
To kick off the series, we decided to start with those must-have gifts that accompany any gaming experience. Here are some of the top headsets, keyboards, and other accessories to make sure that you have your best game yet.
Headsets:
Astro Gaming A40 TR headset $250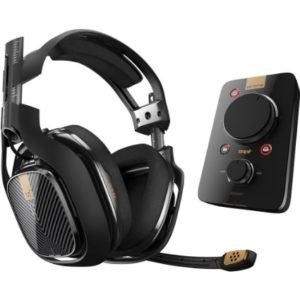 This open-back headset is top of the line in its respective category. It has an interchangeable mic and comes with a MixAmp Pro TR remote that allows for quick changes in game-to-voice balance settings. Now you can lower the chatter and listen to some of your favorite game soundtracks, uninterrupted. In addition, these headphones have an optional mod kit to make your sound experience even better.
Turtle Beach Elite Pro Gaming Headphones $199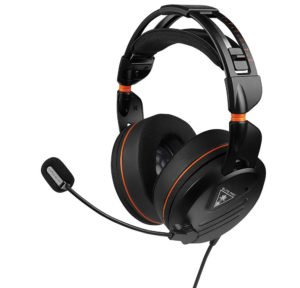 Designed with eSports athletes in mind, these headphones are the ultimate gaming headphones. Equipped with patented ComforTec Fit System and AeroFit Ear cushions, your head won't feel any pressure from the intense noise experience. The removable, omni-directional microphone with TruSpeak technology ensures that your voice will be heard loud and clear against the team chatter. These headphones offer a crisp sound with less distortion and a 50 mm Nanoclear speaker, making it at the top of many gift lists this year.
SteelSeries Arctis 5 Headphones $100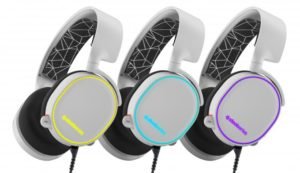 These headphones provide a more affordable solution for sound excellence and a break from the norms. They feature air weave ear cushions for ultimate comfort, and a chat mix dial to balance audio game and chat sound. They also use a bidirectional, clear cast microphone with noise cancelling technology to block out any unwanted noise. Finally, they have a customizable ski goggle headband for superior comfort. This allows you to customize your headphones to fit your personality. These headphones are perfect for the nonconformist, and also for those looking for a comfortable, customizable look.
Keyboards:
Corsair K70 RGB Mechanical Gaming Keyboard $169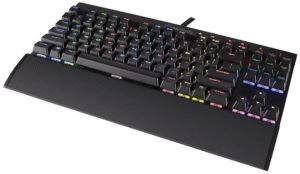 This keyboard offers multi-color per-key back-lighting to customize it to your specifications. Each key is backed with a Cherry mix RGB key switch for fast and accurate responses from your board with 100% Anti-Ghosting. This keyboard is also built for comfort, offering a detachable, soft-touch wrist rest that your doctor would be proud of.
Logitech RGB G910 Orion Spark $179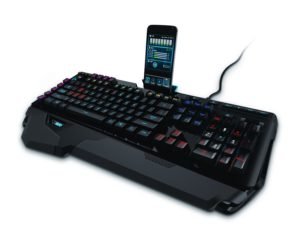 Next up on the hot list for this year is the Logitech G910 Orion Spark mechanical keyboard. This keyboard features Romer-G switches, which offer up to 25% faster key actuation than most keyboards. RGB lighting offers a spectrum of options under your fingertips. In addition, there is an adjustable smart dock to set your mobile device to see your in-game stats. To top off the customization, you can individually program 9 G-keys with macros or custom commands for your favorite games.
Mice:
Logitech G900 Chaos Spectrum $149
This mouse is built for top of the line gaming performance. With a 1 millisecond report rate and 2.4GHz wireless connection, your mouse will be perfectly in sync with your system. According to Logitech, it has their "most accurate optical sensor" to date and is built for both comfort and speed. With its ambidextrous design, it's hard not to love this mouse. Add clock-tuning technology to maximize speed and minimize degradation, nothing else will compare. Even better is that you can complete a 32-hour gaming marathon on one charge! What's not to love about this holiday's hot mouse?
The economical Deathadder Chroma from Razer offers a more affordable gift option in terms of gaming mice. It has an ergonomically designed shape that is comfortable for all users. The Chroma also has a great optical sensor with tracking analytics to monitor your movements. With millions of color options, this mouse gives superior performance without the high price tag.
Mouse Pads:
Razer Firefly Hard Gaming Mousepad $59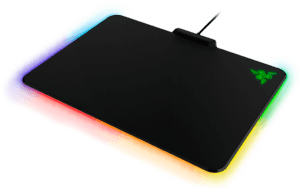 This mouse pad has a micro-textured surface for speed and control regardless of your play style. Razer has optimized the surface coating for extremely responsive tracking that beats other mouse pads. It features a non-slip rubber base and also has Chroma lighting, found in many of Razer's products. Light up your gamer's world with the Firefly mouse pad.
Every gamer needs their go-to mouse pads for every occasion. That's what the DeX is from SteelSeries. This pad features a silicone base that's heat bonded to the cloth surface that prevents rubbing and wear and tear. It is washable and optimized for speed and accuracy. This makes the DeX every gamers best friend.
If the DeX isn't enough for your gamer, SteelSeries has created the Qck XXL. This mouse pad is the largest gaming mouse surface on the market. It has a rubber base and a cloth surface for maximum comfort, but it's huge! You can fit your whole keyboard on it and still have plenty of mouse space.
There you have it! These are the top accessories for any gamer this season. The best gamers have the best accessories, making this an easy checkmark on your list. Can you think of anything we missed? Let us know! Check out our next installment in the series about this season's hottest games! Happy Shopping!