Largest selection of components for custom computing solutions since 2000
Choose from over 2800+ unique configurations
Custom Desktops, Laptops, Gaming PCs, Workstations, Servers and more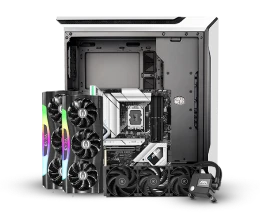 Pergl I.
I did some minor customization like flipping the psu so I can see the led display feature. And I did took out the 3 extra fan from the rad and put the 3 fans for cooling performance. Other than that it was a great build. I wished I have enough money to add a GPU. Thank you AVA Direct. :)
Greg M.
Ive had 3 or 4 computers from AVA. Best computers Ive ever owned and the only place Ill buy a computer from !!!! Thanks to all AVA techs and especially thanks to Kyle !!!!
Yibo D.
Kudos to Kyle at the Sales for helping me build my system. He pointed out the deficiencies in my selection of some parts and made solid recommendations for the alternatives.
Who We are + Mission Statement
AVADirect is a custom computer manufacturer dedicated to providing their diverse clientele an industry-leading variety of components and options. Utilizing a unique and carefully developed combination of in-house procedures and expertise, AVADirect builds computers for business and home use, custom gaming PCs, laptops, workstations PCs, and servers at the pinnacle of quality and craftsmanship. Our customers are served by a dedicated team of experts in system configuration, architecture, assembly, and benchmarking - committed to provide the best service and craftsmanship. All computer systems manufactured by AVADirect are backed up by a best-in-the-industry warranty, personalized customer service, and free, lifetime* technical support.
Expert Design and Craftsmanship
True Custom Configurations
Largest Selection of Computer Hardware
Lifetime* U.S. Based Technical Support
Hand assembled in the United States
AVADirect Custom Computers offers excellent value to our customers through competitive pricing, full configuration customization and elite customer service before, during and after the sale.
We understand that everyone is not a technical specialist, or a master at configuring custom computers—no worries! We have a team of knowledgeable sales executives, who are highly experienced in the Industries and will provide top level Industries insight; walking you through your buying process, step by step.
Whether you are seeking assistance regarding a question or concern about a system that you are configuring, making a change to an existing order, or simply looking for advice on a specific component, our friendly team of customer service representatives is here to help.
We take great pride in our attention to detail and craftsmanship on each custom computer built. Therefore, you can be assured that when they choose an AVADirect custom computer, your system will receive the personal touch you desire. After your computer is built it undergoes a series of performance based tests before it leaves the factory floor including a 24-hour stress test / burn-in to ensure stability and reliability.
Thanks to our deeply rooted commitment to allow our customers to design a truly custom machine, our configurators are geared toward giving you a truly customized PC building experience. By offering between 2.5 and 3 million compatible computer configurations for gaming, home, business, and military grade computers – our configurators provide you the most current and broadest selection of computer hardware components available in the Industries today.
At AVADirect, we sell Customization without Compromise! Custom is our middle name. For over a decade, it has been our mission to provide the finest intricately built custom pc solutions using the latest technology. AVADirect's strong relationships with the hardware Industries's leading manufacturers provides our customers the largest and best selection of hardware within the Industries.
We provide LIFETIME* Technical Support on every AVADirect Signature Series and True Custom computer that leaves our facility. Our Technical Support experts at AVADirect are all accredited with Level 3 Support, the highest title for a technical support professional. If you're having a technical issue -- we'll make sure to solve it: the first time.
Each AVADirect PC is hand assembled by a single technician from start to finish in Twinsburg, OH. After your PC is assembled, your new computer will go through a 24-hour burn-in to ensure stability and steady performance before shipping.
Awards from Industry Publications