Custom

Desktops
Tower Desktops, Silent Desktop PCs, Barebone Desktops, and All-In-One Desktops
Looking for a custom desktop PC to use at home or in the office? Then you're in the right place! AVADirect builds high-end custom desktop computers for everyone from the everyday user to the business professional. Our configurators allow you to choose between thousands of parts to ensure that your build is exactly right for you, so you get the performance you deserve without breaking your budget.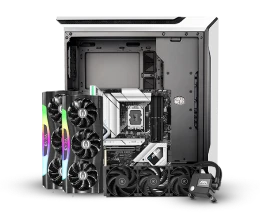 Custom Tower Desktops for Every Budget
Customizable desktop towers perfect for home and office use
At AVADirect, we have custom PC desktop options for every need and price point.
Thanks to our wide selection of components and financing options, solid, custom desktop computers are within reach!
Custom Desktop Computers Built for Reliability
At AVADirect, we offer the widest variety of top-of-the-line components, so your tower desktop not only meets your needs but surpasses your expectations.
Over 20 years, we've developed partnerships with top component manufacturers for better component warranty support and product availability.








Silent Desktop Computers
Build a quiet desktop PC with AVADirect
Complete your work quickly and quietly with a silent Desktop Computer by AVADirect. Our quiet PCs are designed for those who are looking for the best silent PC technology available. Even the littlest beep, hum or click from a computer can cause issues in an office environment, decreasing productivity.
Personalize Your Custom Desktop
Custom paint possibilities, glass laser etching, case modding options,
decals, and more are all available when AVADirect builds your PC.
Desktop Computer Customization Options
Frequently Asked Questions
What is the Difference Between a Gaming and Desktop PC?
A gaming computer, unlike a typical web browsing/word processing machine, will more often make use of a fast multicore processor, more ram, and will also include a dedicated graphics card.
Can I Use a Desktop Computer as a Workstation PC?
Most desktops are capable of some basic workstation tasks. However, it would be best to have more robust hardware when using more intensive professional applications like Redshift.
What is a Desktop Computer?
As the name implies, a desktop system is a computer geared for usage at a desk space as they are stationary and user-focused for daily use.
What Makes a Good Desktop Computer?
While the use case can impact what makes a desktop suitable, generally speaking, a good desktop computer will have modern hardware focused on compatibility with the newest applications.