Custom

Mini PC Solutions
Gaming Mini PCs, Desktop Mini Pcs, Mini-ITX PCs, and Mini Tower PC Solutions.
Low on desk space or just want a compact PC to fit where real estate is a premium? Then you're in the right place! Our small form-factor PC mini towers and NUCs provide the performance of a full-sized tower, despite being small enough to pack up and take with you!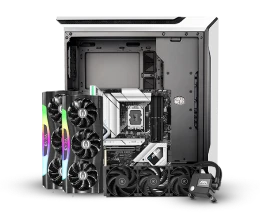 Custom Mini PCs by Form Factor
Small form-factor mini pc cases in a variety of sizes
Big performance can come in small packages! Limited on space but need a PC that can push performance just as hard as a full-sized tower?
A mini PC build might be the perfect option!
Choose between smaller cube-shaped designs, slim and thin case options, or mini tower desktops that are just smaller versions of your favorite ATX cases.
Top Manufacturers Deliver Reliable Performance
With 20 years in the industry, AVADirect had the time to build partner relationships with the top computer component manufacturers in the industry.
This relationship provides access to a wide variety of components with top-tier warranty support so that we can build you the best mini PC possible.








Mini PCs for Gaming
Build a Mini PC and Save on Desk Space!
Choose from the latest full-sized NVIDIA RTX or AMD Radeon graphics cards to equip your gaming mini PC with the necessary components for peak performance and steady frames. The small form factor of your gaming mini PC will allow you to easily pack it up and transport it to your friend's house or LAN parties so that you can game anywhere.
Need Help Building Your Mini PC?
Our sales team is here to help!
Let our highly trained sales team build your Mini PC for you! Let us know what you would like your mini tower PC to be able to do, as well as your budget and our sales team will configure the perfect mini tower PC for you! You won't have to worry about the graphics card size restrictions for your pc mini case, we'll be sure to check!
Contact Sales