Workstation
Computers
PC Workstations, Workstation Laptops and Rack Workstations Solutions
AVADirect Custom Computers builds PC workstations fine-tuned for the program or application you need to run. Choose from a variety of consumer or professional-grade components needed to help your custom workstation computer perform and complete compute-intensive workloads quickly and quietly. Looking for a custom workstation for your business? With over 20 years in the industry we've worked with tons of
businesses
,
universities
, and
government
entities to build single-order and bulk custom computer, server, and other technical solutions.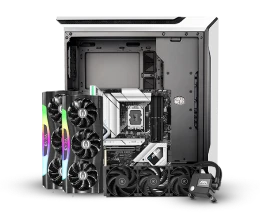 Workstation Computers in Every Form Factor
Powerful PC workstations built for longevity
Tower workstations are powerful computers built to run complicated software efficiently.
With over 600 case options, AVADirect can pack that performance into smaller form factors such as mini workstation PCs, or workstation laptops.
Workstation Computers Demand Reliable Performance
At AVADirect, we offer the widest variety of top-of-the-line components, so your workstation computer not only meets your needs but surpasses your expectations.
We built great partnerships with some of the best workstation PC component manufacturers to guarantee that we have access to all the available parts on the market for your custom build. This advantage allows us to suggest the best configuration for your workstation computer, should you need help when ordering your custom creation.








Custom Workstation Computer Solutions for Any Budget
Build a workstation PC with thousands of component options
Building a workstation pc to fit your needs and budget has never been this easy!
Choose from thousands of components to assemble your perfect custom workstation.
Need Help Building Your Custom Workstation PC?
Want a powerful custom workstation computer optimized for your most used software,
but not sure where to start?
Contact our highly trained sales team! They can assess your needs, specific requirements and styling
preferences to create a custom configuration personalized for your software and budget.
Contact Sales
Frequently Asked Questions
What is a Workstation PC?
A workstation is a computer geared toward the usage of professional applications. Higher-end workstation computers often feature processors with 12 or even more CPU cores and a Quadro or Radeon Pro Graphics (or even a gaming card).
What is the Difference Between a PC and a Workstation?
Sometimes the difference between a typical PC and a workstation can be indiscernible. However, workstations are often set apart by higher-end CPUs or GPUs; or even specialty components like raid cards, capture cards, specialized sound cards, and more.
What is Considered a Workstation?
Workstations often can share a lot with an average desktop or gaming desktop depending on the intended use case. Still, sometimes the intended purpose can significantly affect the hardware. Some unique features that would firmly place a system into the workstation definition would be ample storage, a professional series graphics card, a high core count CPU, and increased memory.
What Can a Workstation Computer Be Used For?
Some popular workstation applications include Maya, Redshift, Autodesk, Adobe Premier, and Vegas. The list is endless as countless industries use workstation computes in Game production, Video creation, equipment manufacturing, complex simulations, and more.
What is the Most Important Workstation PC Component?
It's essential to plan what application(s) your system will use. Some complex simulation applications rely heavily on the CPU, but a video card may not matter, or you may need a great video card for 3D rendering. The answer to what is most important is highly variable in a workstation, but our sales team can help if needed.
Which is the Best Workstation?
For some indication as to which PC is best, most professional applications will have recommended specifications. You can take the most vital recommendations from each application you intend to use and combine them to determine the best system for you.