AVADirect
Custom Computers
20 years of building custom computer solutions for the everyday user, businesses, educational institutions, and government entities.
The Story Of A Custom PC Builder
After spending a few years attending tradeshows and live-assembling custom computers with on-hand components, Alex Sonis sought to expand and bring his custom-built computers online. Tired of limiting customers with smaller stock options, Alex forged ahead and found AVADirect Custom Computers in 2000. The goal was to customizable computers to the next level, with thousands of component options so customers aren't limited by brands or specific models.
20 years later, AVADirect offers the most expansive and in-depth custom-built computers available on the market; with over 600 case options and thousands of component options. At AVADirect we believe technology is not something you purchase but have the vision and ability to create. We are committed to providing the finest design, engineering, and production of custom-built computers.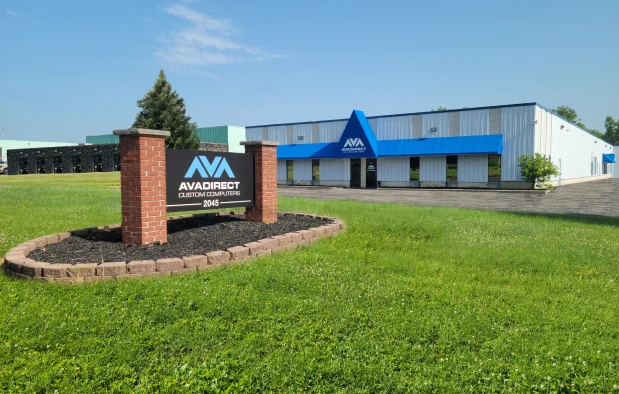 Why AVADirect Custom Computers?
AVADirect builds computers that are built to last. Our elite team of experts will ensure that you are satisfied before, during and after the sale. You'll find the customizable computer you're looking for and you'll know that AVADirect will be there to offer technical support for the lifetime* of your new computer.
Professional overclocking
Let us optimize the processor and graphics card to run faster, while ensuring reliability, staility, and longevity.
Extensive testing
Each AVADirect PC is thoroughly tested for up to 72 hours to ensure reliability and stability.
True custom
Create a custom computer unique to you by specifying the exact components you need in your system. Don't see a component offered? What custom designs or physical modifications? Call or email!
Zero bloatware
AVADirect computers only come with the software you specify - no programs, utilities or apps you won't use.
Our Accreditations
AVADirect commitment to product quality, business integrity and our customers has led to certifications from several organizations. Our quality management system is certified to comply with the ISO 9001:2015 standard. Our production facility is fully compliant with strict requirements of ANSI/ESD 20:20 standard. Our GSA Schedule Contract (Contract# GS-35F-0159V) we can provide GSA customers with the latest technology and quality supplies and services.




World Class Customer Support for Your Custom Computer
Our customers are served by a dedicated team of experts in system configuration, architecture, assembly, and benchmarking. AVADirect is committed to provide the best service and craftsmanship. All computer systems manufactured by AVADirect are backed up by a best-in-the-industry warranty, personalized customer service, and free, lifetime* technical support.






Industry-leading Partners
Since 2000, AVADirect Custom Computers has partnered with leading industry manufacturers to ensure the best pricing, component authenticity, and top-tier warranty support.
Take a look at our partner page for a full overview of all the companies we work with.
What makes AVADirect the best choice for building a custom computer?
Our Clientele
AVADirect's unique ability to create custom computers to the exact specifications of each customer has defined us within the industry. Our customers cover a broad spectrum, ranging from businesses and government agencies to educational institutions and everyday consumers.