The gaming community knows and loves NVIDIA for their high quality computing graphics cards. Now? NVIDIA is entering a new market in a big way. Autonomous cars are all over the news as the next big advancement in the auto industry, second to eco-friendly electric cars. The problem with this concept (aside from legality of all of it) is actually having the technology that is capable of making it possible. This is where NVIDIA has stepped up to the plate and hit a grand slam. They are leading the fight and have developed several solutions to the self-driving car questions, such as artificial intelligence. Here's what they have come up with so far.
NVIDIA DRIVE PX 2
The PX 2 is the artificial intelligence that will push cars to be more autonomous. This all in one car computing platform combines sensor fusion, surround vision, and deep learning to better the cars ability to drive safely.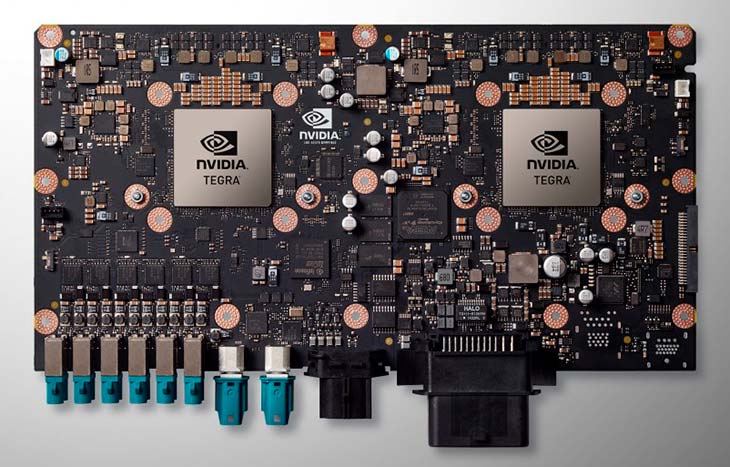 The first thing that makes this chip so innovative is that it integrates all the parts of a computer into one single piece, known as a system on a chip (SOC). This particular SOC is capable enough to process incredibly accurate, real time information that is coming in from the surroundings of the car. This helps with the Sensor Fusion function of the chip. It can meld data from multiple cameras, radar, and other sensors and use algorithms to understand a 360-degree view of the car's surroundings. This includes other moving objects.
This chip's ability to be used in cars ranges from a small Autocruise chip that is the size of your palm to a Fully Autonomous Driving system. The unique thing about these is that they have the processing power to handle all of the information coming in, and handle it appropriately. Intel has tried to come up with a chip that rivals NVIDIA Drive PX 2, but so far, NVIDIA has the upper hand and is using their advantage to partner with many major auto making brands such as Tesla, BMW, Audi, and Baidu.
NVIDIA Driveworks
Now that NVIDIA has created the hardware for self-driving cars, they also decided creating the partnering software was the next step. Their Driveworks development kit is the perfect tool for auto manufacturers as a foundation to build algorithms for object detection, map localization, and build applications. This software helps research and development make their autonomous dream a reality when using Driveworks in combination with their own Advanced Driver Assistance System. Key features include detection libraries, localization libraries with HD-map interfacing, and planning libraries to help with vehicle control and scene understanding. This unique software will help each car company to create their own unique way of doing a self-driving car.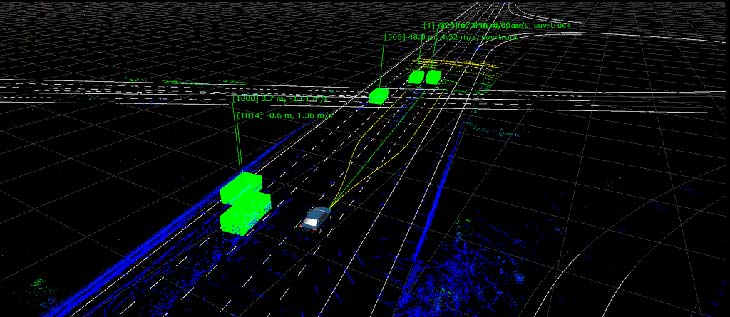 NVIDIA DGX-1
This is the world's first AI supercomputer in a box as NVIDIA has named it. The DGX-1 is built for deep learning and accelerated AI analytics to deliver quality performance to over 200 servers. This computer comes with all the works including the hardware and software to drive the car for you. This device shortens your processing time, visualize more, and speed up the artificial learning process to increase productivity. What makes this device so unique is that it can compute fast enough to handle the mass amount of information that artificial intelligence requires.
End to End Mapping
The other product that NVIDIA has developed is an end-to-end mapping system for self-driving cars. It is helping map companies create HD maps rapidly, and help keep them updated. What used to take weeks is now happening in real time, and is an extremely important step in the development stage for self-driving cars. If they can't see where they are going, then how are they supposed to know what is happening? This combined with the PX 2 and the NVIDIA Tesla GPUs speed up the creation and the updating process of highly detailed maps like this one.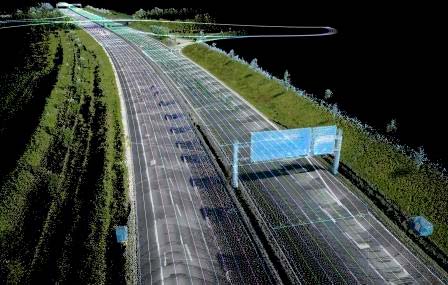 NVIDIA is pushing the boundaries in the automobile industry and working with forward-thinking auto manufacturers to steer their new cars towards autonomous driving. Now that they have unlocked the gateway to the artificial intelligence world, you will definitely be seeing more of them in the news for their innovations. Where will they drive towards next?