PAX East is always one of the most anticipated gaming events every year and 2017 definitely did not disappoint! As one of the largest gaming events in North America, gaming enthusiasts flood Boston to be a part of the action every year and to experience all the gaming developers and publishers new and unreleased games and hardware for themselves. Created exclusively for the gaming community, this event also features a console free-play area, LAN parties, a PC area, panels, concerts, cosplay, and some fierce competition; as the Intel Extreme Rig Challenge was center stage with 12 teams competing to build the most extreme gaming PC. See the results and how we were involved:
INTEL EXTREME RIG CHALLENGE
Every year, Intel hosts the Extreme Rig Challenge where some of the top system builders compete to create the most extreme gaming rig. This year, each build featured the new Intel Core i7 7700k processor and an Intel SSD 600p Series. Each company started a social media campaign prior to the convention so followers could vote for the top 7 builds to be showcased at PAX East. Thanks to all our wonderful fans for making this happen! The final 7 builds were unveiled at PAX East and we were among them, exhibiting our custom gaming PC, the Jotunheim at the Intel booth. Amidst all the excitement, the Jotunheim outperformed all our top competitor's models to bring home the Best Performance Award and snatch third place overall in the popular vote!
The Jotunheim featured the In Win 909 case, which was custom painted a white, blue, and black theme with high-quality automotive paint. It also featured dual 1080s running SLI, an Intel i7-7700K CPU overclocked to 5.1GHz, and dual raided Intel 600p m.2s, reaching 4800 cache frequency over 3600MHz on the Corsair Vengeance LED memory. A large cylinder reservoir at the top fed the hard-lined liquid-cooling system, which custom cooled the VRM motherboard, CPU and graphics cards. For more information on our build, check out AVADirect's Marketing Director, Shannon Robb's description video thanks to Newegg Studios! Among some of the other awards won, Cyberpower PC took home Most Creative Build and NCIX took home Best Engineered Build. We're so proud of the small team of experts here at AVADirect that built this award-winning rig! And congratulations to Philip Jones, the winner of our very own Jotunheim.
ANNOUNCEMENTS & SHOWCASES
There were so many new and exciting announcements made at PAX East this year that we could go on and on just to list them all. Mass Effect: Andromeda featured new multiplayer gameplay footage of the upcoming release, Final Fantasy made a comeback with Final Fantasy 15: Stormblood, and The Elder Scrolls Online: Morrowinds expansion showcased the new battleground PvP mode. The presence of more VR booths and content this year compared to previous years was definitely noticeable. We're on the verge of cutting-edge VR technology, with more studios creating even more immersive games to enjoy, such as The American Dream, GNOG (by KO-Op), and Into the Deep. Indie games also were a huge highlight at PAX East this year with the Indie Megabooth showcasing tons of new games and upcoming releases, like Perception (from the makers of Bioshock), Deliver Us The Moon (from Dutch Studios), and Ape Out (by Devolver). We can't wait to try all these out for ourselves.
COSPLAY
Finally, Pax East wouldn't be complete without cosplayers. Always stealing the show, they were out in full force this year, showing off their incredible costumes from their favorite games, shows and movies all weekend. We even had a few stop by the booth, including D.Va and McCree from Overwatch, Samara and Shepard from Mass Effect, Geralt from Witcher, Boba Fett from Star Wars, and Harley Quinn from the Batman Franchise/Suicide Squad, all posing for a photo op with the Jotunheim. We'd like to give them all a shout out and thank them for hanging out with us. Check out our Facebook page to see all their impressive costumes.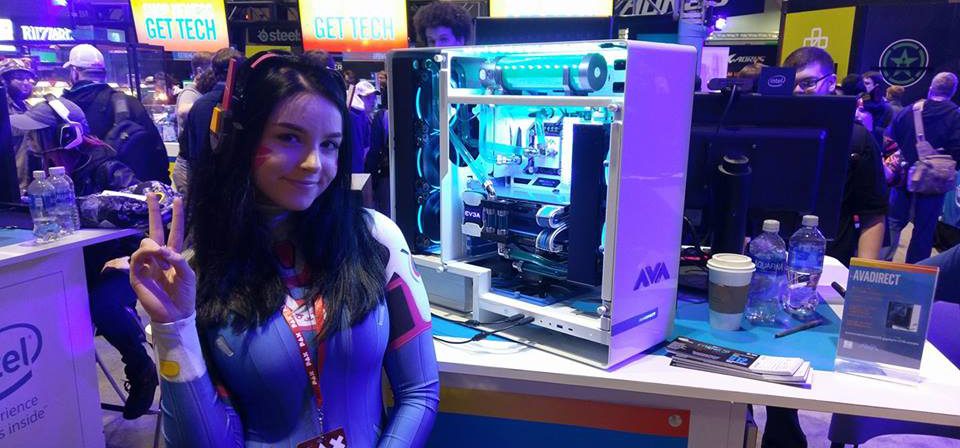 All in all, PAX East 2017 was a huge success, with thousands of gamers flocking to be a part of the gaming community and be the best at all the new games they tried. Here's to next year and all the new exciting announcements and developments to come! We can't wait!