What is AMD Ryzen 7000 Series and when are these CPUs available?
The AMD Ryzen 7000 series is the latest release of processors from AMD. Ryzen 7000 was released on September 27th. You can see how they compare to the latest release from Intel in our Intel 13th Gen vs AMD Ryzen 7000 Series blog.
How much does Ryzen 7000 Series cost?
Remember that these prices are suggested MSRP. Actual pricing may vary based on availability, distributor, and rebates.
The Ryzen 9 7950X is the most expensive with a $699 retail price.
Ryzen 9 7900X- $549
Ryzen 7 7700X – $399
Ryzen 5 7600X – $299
This is a huge price drop from the suggested MSRP of the previous generation, AMD Ryzen 5000 Series, so it looks like AMD is aiming to lower prices on the latest generation for the higher-end CPUs.
Ryzen 9 5950X – $799
Ryzen 9 5900X – $549
Ryzen 7 5800X – $449
Ryzen 5 5600X – $299
What's the difference between Ryzen 7000 and Ryzen 5000 Processors?
AMD has moved forward from PGA to LGA for processor socket type and has also updated from DDR4 to DDR5. The new chipset for AMD Ryzen 7000 processors also supports PCIe 5.0 for double the bandwidth. On the software side, the way that AMD processors will boost has been changed significantly; they will hit a maximum temperature threshold in almost any cooling scenario to run as fast as possible as opposed to more traditional boosting which has a set maximum that may be maintained with good cooling.
The core count between the two generations is the same, but 4 more PCIe lanes have been added across the board and have also been upgraded from 4.0 to 5.0 for the AMD Ryzen 7000 series, collectively PCIe throughput is more than doubled.
Base frequencies are all higher across the board on Ryzen 7000 series by roughly a gigahertz, turbo frequencies see a mild uplift.
In testing, all of the AMD Ryzen 7000 series are maintaining a higher all-core frequency by about 500mhz vs Ryzen 7000 series
Power Draw Differences between AMD Ryzen 7000 and Ryzen 5000 Series
AMD is drawing roughly double the power this generation to achieve higher clocks and better performance. These CPUs push performance to the max, taking power draw to the next level. If you're looking to limit your energy usage, these CPUs might not be for you.
Timespy Ryzen 7000 Series Benchmarks
In Timespy we see a fairly linear 20% improvement in scores across the board in Ryzen 7000 series verses the previous generation.
Ryzen 7000 vs Ryzen 5000 Geekbench Benchmarks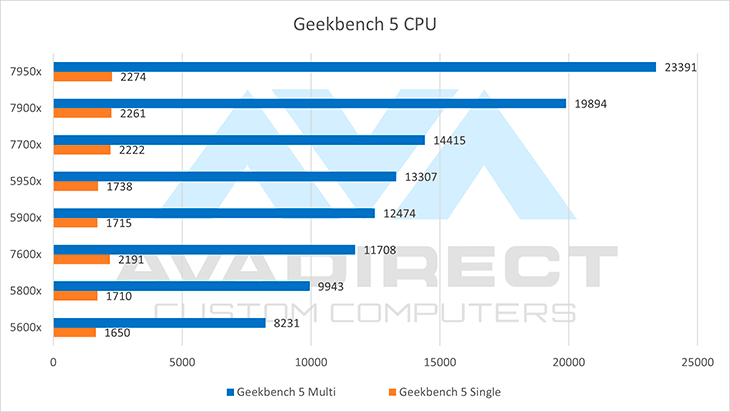 Geekbench sees a massive 30% jump in single-core performance, which is the highest margin of all of the testing conducted. Multicore jumps even higher by a whopping 75% improvement.
Cinebench Ryzen 7000 vs Ryzen 5000 Benchmarks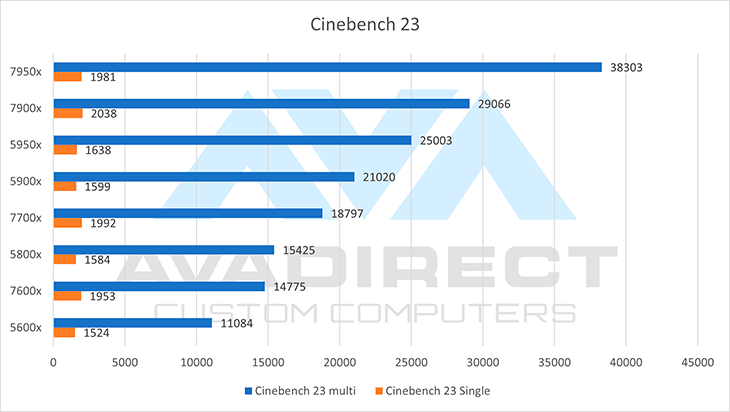 Cinebench sees similar improvements across the board but scaled back slightly. We see significant improvements in AMD Ryzen 7000 series multi-core improvements and a roughly 30% improvement in single-core performance.
AMD Ryzen 7000 Gaming Benchmarks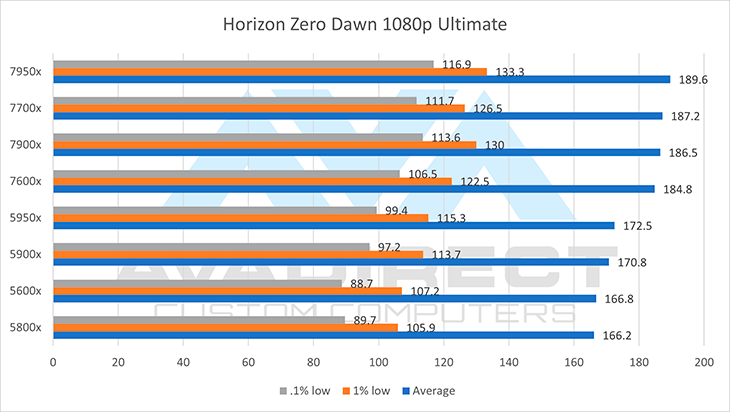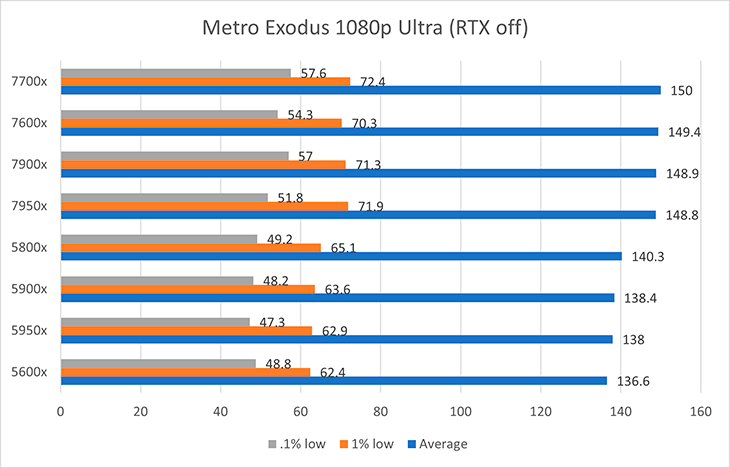 Horizon Zero Dawn sees roughly a 15% improvement in 1% lows though overall average improves by about 10% across the range.
Metro Exodus sees a similar story except the 7600x and 7700x are both performing better than the 7900x and 7950x in both the averages and lows.
Is AMD Ryzen 7000 Series Better than AMD Ryzen 5000?
AMD Ryzen 7000 series sees series improvements in single-core and multi-core performance. There's no doubt that there's a huge improvement from the previous generation of processors.
However, if you're looking to purchase an AMD Ryzen 7000 series processor, you'll likely need to upgrade your motherboard to a DDR5-compatible model. DDR5 is relatively newer on the market are more expensive than slower DDR4 models. X670 Motherboards and comparable models also feature a bit of a higher price due to their newer technologies, features, and extra PCI-E lanes making building an AMD Ryzen 7000 series-powered PC a bit more expensive than previous generations.