Mini PCs are so unique, simplistic in design, perfect for small places, all while being complex to assemble due to their small size. They are fascinating and aesthetically pleasing when built and cable managed correctly. However, what are the best cases for these types of builds? Let us look at a few mini pc case options.
Lian Li Q58 – Mini-ITX Case for the masses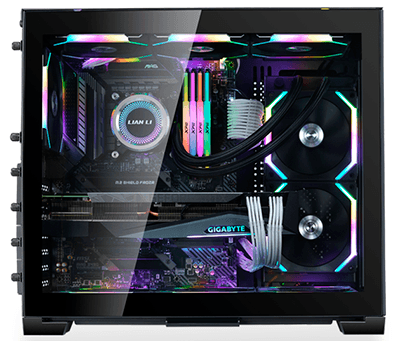 Lian Li is at it again, however, they are in the ITX space now. Coming off the success of the Lian Li PC-O11 case, the Q58 is looking to do the same. The dimensions for this bad boy mini pc case come in at 9.8 x 6.7 x 13.5 inches. While not big, it does back a punch aesthetically and with its features. Allowing the ability to include an ATX PSU is a huge feature that opens options for you to choose from. The max GPU length you can use is 12.6 inches, and the case only houses three expansion slot bays, so try and limit the GPU to a 2-slot unit in the event you need to use one more slot for another expansion card. The front IO offers a USB 3.0 port, USB-C port, and mic/headphone port. You can also house two fans on the top of the case and one fan on the bottom of the case. None on the back or front of this mini pc case, which is disheartening. The case is Lian Li through and through, with a great build quality. Be sure to check this case out if you are looking for an ITX build.
Cooler Master NR200P Max- A fan-favorite mini-PC case
Cooler Master has been in the ITX case game for a while, and this case is bringing some new life to what they have to offer. Being spun as a case that is for novice builders, this could be the case for you. This case comes in at 14.8 x 7.3 x 11.5 inches, alongside sporting a built in an 850w gold rated PSU. The GPU length maximum for this case is 13.2 inches and it has three expansion slot bays. So again, I wouldn't go past a two-slot card. This case also comes with a 280mm cooler preinstalled as well, so you can save cost on that front and put it towards other components. The IO panel has two USB 3.2 ports and a 3.5 mm headset jack, but lacks the USB-C port, which is a bummer. While this case does come at a higher price tag, it is worth it as it includes both a PSU and a water cooler. This would make a great case for someone who is looking for their first build or their first ITX build.
Phanteks EVOLV Shift XT – A quality Mini PC Case
Phanteks has always been a premier case company, right up there with Fractal Design. Phantkes is no stranger to mini case designs, either so expect nothing short of quality from this case. This case comes in a 13.6×6.8×8.3 inches, alongside of a tempered glass panel and steel finishes. Case IO panel has one USB 3.2 port, a USB 3.0 port, and a USB-C port. The GPU clearance is 12.06 inches, with three expansion slot bays. You can use an SFX PSU for this unit, and it can support a 280mm AIO as well. The price point on this case is a little higher, however you are getting high quality.
Thermaltake Core V1
–
A great choice for a mini PC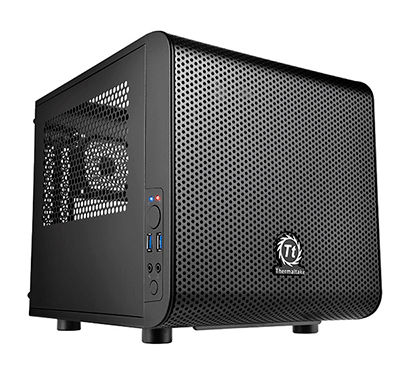 Thermaltake been in the case game for quite some time, and this case has been an ITX staple for quite some time. The Thermaltake Core V1 hit the market in 2014 and has been a popular case since due to an incredible price point. This case comes in at 10.9×10.2×12.4 inches. Due to this being an older case, it only has two expansion bay slots, which is unfortunate as the GPU you will more than likely put in will take up both of those slots. Maximum clearance for a GPU (without the ODD cage) is 10.03 inches. Clearance if the ODD cage is out 11.22 inches. Due to this being an older case, the IO panel is a bit outdated, however it still does have 2 USB 3.0 ports, one headphone port, and one microphone port. No USB-C port, unfortunately. This case offers great ventilation and has a unique feature of interchangeable side panels.
Fractal Design Node 202- A Mini PC case perfect for HTPCs
This tried-and-true mini pc case provides more of a home entertainment/console style of aesthetics. This sleek design is going to allow versatility throughout your entire home, allowing you to place this unit anywhere it is needed. This unit can come with a SFX 450w PSU, however that doesn't have to be the case as you can order the case without the PSU. Depending on the needs you are looking for, that more than likely won't be useful if you are looking to put a power-hungry CPU and GPU in the case. The case features 2 expansion slots, which will more than likely be taken up by a GPU. This unit also comes with a 3.0 riser cables. The max length for a GPU is 310x145x47mm, supports mini ITX boards only, supports up to 56mm height in a CPU cooler, and only an SFX PSU.
Build a Mini PC with AVADirect
Mini PC units are awesome, sleek, and very useful depending on living/work conditions. You can fit these cases anywhere and they will look right at place around all of your other belongings. Any of these cases interest you? Looking to build a mini PC? You can use our awesome configurator to piece together a mini pc of your own, or you can reach out to our sales team and they can help you every step of the way.