A Portable VR PC System With Purpose
As technology continues to innovate and make shockwaves throughout the industry, adding convenience to our lives becomes increasingly essential. Time is money; our time is more precious than anything life offers. That's why AVADirect Custom Computers invests the time it takes to fine-tune Virtual Reality solutions that makes sense – removing the guesswork, research, and development required to create a suitable solution for all – Enter the AVADirect Portable VR Travel Kit. Utilize your Virtual Reality Headset for work and play with a portable VR PC and Virtual Reality headset.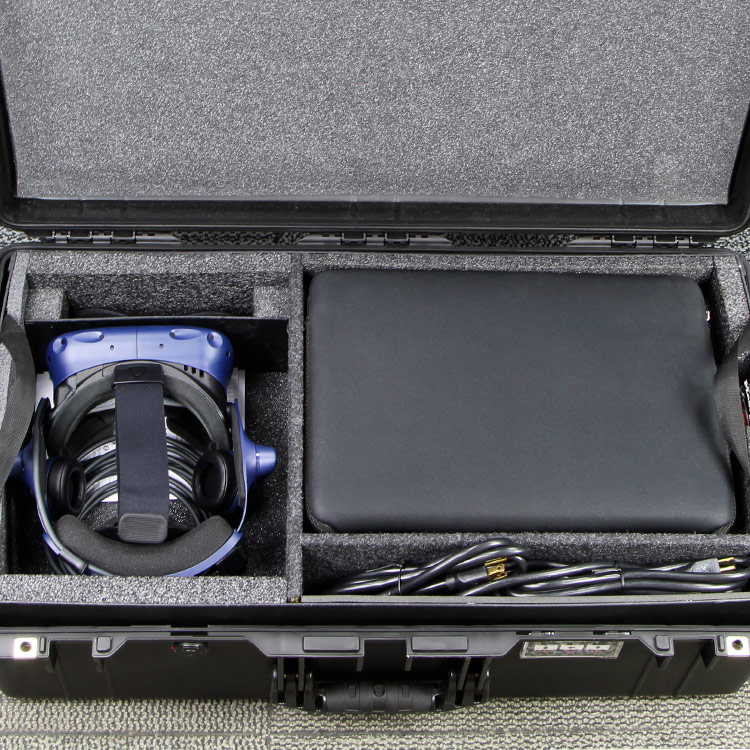 High-end Hardware Without High-End Pricing
Are you a business needing a quick and easy way to travel with a VR Rig that professionally demonstrates the software you've invested hard-earned time into revolutionizing within an industry? Perhaps you are an enthusiast who cannot imagine being unable to immerse yourself in a world only made possible through the wonders of modern VR headsets and are looking to build a portable VR desktop. Nothing more, and nothing less, is the name of the game, and AVADirect puts competitor offerings to shame – Value is the word most associated with our business. In all my years of working within our Sales department, I've made it my mission to ensure clients receive the appropriate balance of hardware-to-dollars spent. After all, this is the beauty of being the only custom system integrator that holds no limits. You will be hard-pressed to find a solution that is as affordable as what our AVADirect Travel VR Kit has to offer.
Capability Beyond Measure
Housed in a rugged Pelican case, the AVADirect Portable VR Travel Kit is designed to provide a wealth of VR headset choices while also maintaining the durability required to travel frequently. When investing in high-end hardware, the ability to travel safely and keep your hardware safe from harm is essential. Our Portable VR Travel Kit provides many options to ensure the AVADirect VR Travel Kit meets the needs of anyone looking for portable VR solutions. Options are as follows.
MSI Crosshair 17.3" Laptops
Intel Core i7 Processor (11th gen & 12th gen)
(Ranging from RTX 3050 Ti – RTX 3070 graphics card options)
Memory support up to 64GB
2x supported M.2 SSDs
Foamed Pelican Case – Small enough to bring as a carry-on while flying
Extension Cord – Providing a convenient way to power multiple devices
Various VR Headsets & Accessories
HTC & Oculus Headsets
Extras, including batteries and controllers
Headset Cushions
VR Trackers
Trackstraps
Cables
USB Hubs
VR Base Station Stands
MiniSD Cards (additional storage for HTC headsets)
Various PC Accessories
Keyboards & Mice
PC Controllers (Xbox 360, Flight Sticks, Driving Wheels)
Why AVADirect Custom Computers for your Portable VR PC?
AVADirect has been in business for over 20 years. As we don't limit ourselves to only offering specific solutions, our team can only compromise with industry professionals with a level of knowledge and passion to drive many of the innovative solutions we have listed on avadirect.com. AVADirect can only continue successfully operating this business model by fostering and recruiting a team that genuinely understands technology. It's difficult to build a niche product and train staff on its ins and outs. When you create countless niche' products on PC hardware and software, it takes an individual who can apply industry knowledge to make the product the best it can be – That's the AVADirect team. We have the highest level of commitment and personally invested interest to ensure the AVADirect solutions you purchase can be counted on to grow your business or your love for gaming.