AVADirect Custom Computers offers over 600 cases via our configurators. It can be hard to decide with that many options, so we've come up with a handy list of some of our top choices. Customizable computers from other brands usually don't feature so many options, but AVADirect is different. AVADirect doesn't seek to limit your choice of case, motherboard, graphics card, memory, or any other component. You aren't limited by choices when you build your own PC, so why would you be when you build a custom PC with us?
What Makes a Good PC Case?
Choosing a PC case is an important decision that many people don't put much thought into. When you build your own PC, there are a few considerations you need to think about when it comes to choosing a case. Airflow, cable management, and clearance for your graphics card and choice of cooling. We've assembled over 40,000 PCs over our 20 years of being in business. Here are some of our favorite choices.
Lian Li 011 Dynamic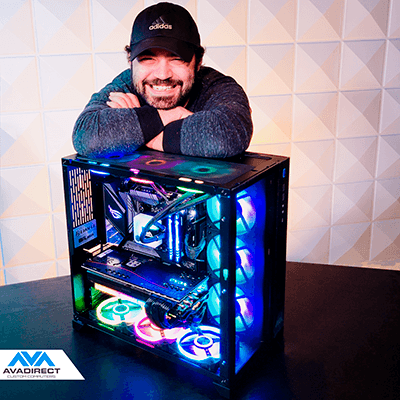 The case that we've probably built in the most. The Lian Li 011D is an extremely popular choice for its quality, aesthetics, airflow and build potential. Built for hardline water cooling, this PC case shines when it's decked out with custom liquid cooling solution. You don't need to go all out to have a beautiful build in the 011D, though. Truly, this well-crafted case can make any bunch of components look great if you know cable management.
This case keeps it classy and is extremely adaptable. It makes workstation PCs a work of art and RGB gaming PCs are eye-catching at every angle. Oh, and there are plenty of sizes to choose from. Mini-ITX PCs can be built in the Lian Li 011D Mini for small form factor builds. If you want more room, there is a Lian Li 011D XL that includes extra room for liquid cooling.
Hyte Y60
One of the more recent releases, this beautiful case slightly resembles the Lian Li in appearance. Roomy and with plenty of airflow, this case is ready to show off some RGB-heavy builds. A great choice for gaming PCs. Featuring full glass panels, this case is one of the few panoramic tempered glass solutions that you can build your PC in.
Panoramic glass viewing makes for a beautiful PC, but only if you have proper cable management and tie-offs. Sloppy wiring and RGB will be extremely noticeable but aren't a concern when you purchase from a custom PC builder.
ASUS TUF Zaku II
If you're looking for something a little different, look no further. This Gundam inspired PC case features tons of little details that make it a truly unique choice. Red with a perforated front panel, this case provides good airflow and makes a great choice for those looking to use an AIO or smaller air cooler for their CPU for those looking to build their own gaming PC.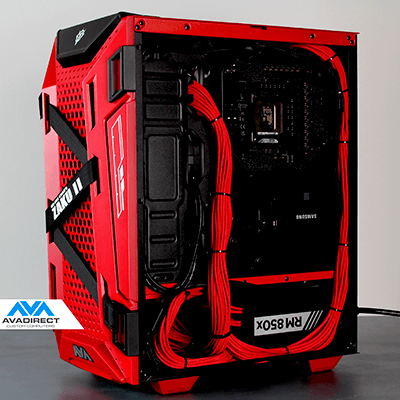 These are just a few of the more popular options that we offer via our website as a PC system builder. There are over 600 to choose from. One of those 600 features everything you're looking for when it comes to airflow, space, and design preferences. If you need help sorting through our options, our sales team is available via phone, email or livechat (during our usual business hours). They'd be happy to discuss your PC case needs and share their knowledge.