Gamers love colors in their system, which is apparent with the thousands of options manufacturers offer to "light up" consumers' build. However, many people see it as a complete waste of time and money, and I am one of them. While there is no real benefit from adding RGB, it does allow you to boast and show off to your friends and loved ones.
Should you buy RGB for your gaming tower?
This all boils down to personal preference. While it does add a nice pop to your gaming PC, or mini gaming PC, that is all it will do.
You could go with cheaper fans for your gaming PC, take the extra money you would have spent, and put it into more storage or possibly a more powerful GPU. While the cost you will save is small, it could make the difference in getting that step-up SSD or that memory kit you originally wanted. However, if you want RGB, I fully support that. They can add a lot to a tower gaming PC in terms of aesthetics and be a showpiece in a room.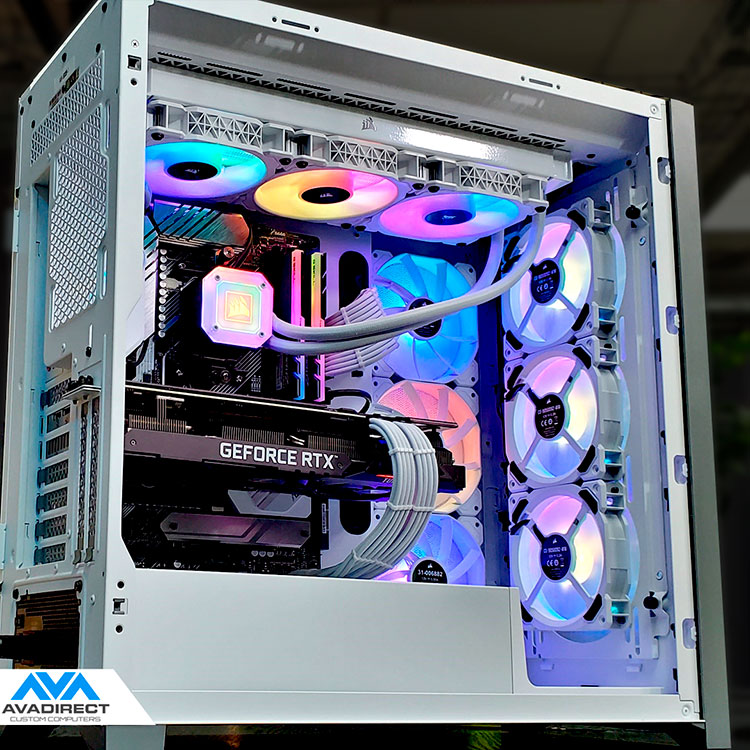 Are there any perks to having RGB in your custom PC?
While there aren't any perks that would benefit your performance, there is software for many RGB components out there, allowing you to fully customize the lighting in your gaming PC or mini PC. Let's say you are doing a specific themed build that aligns with a video game. In this case, let's assume it is Cyberpunk 2077.
The PC is a water-cooled gaming PC with hardline tubing filled with yellow coolant. Adding an RGB color scheme that adds bright yellow and other colors that help showcase the overall theme of the build will make the gaming PC and the coolant really pop. When it comes to themes, the options are endless. We have done quite a few here at AVADirect and may have more down the line… you should probably stay tuned.
RGB lighting can be a great way to express your creativity and personal style. You can experiment with different color combinations, lighting patterns, and effects to create a unique aesthetic that reflects your personality. It's like having a canvas where you can showcase your artistic side. Whether you prefer a vibrant and eye-catching display or a more subtle and elegant look, the versatility of RGB lighting allows you to achieve the desired effect.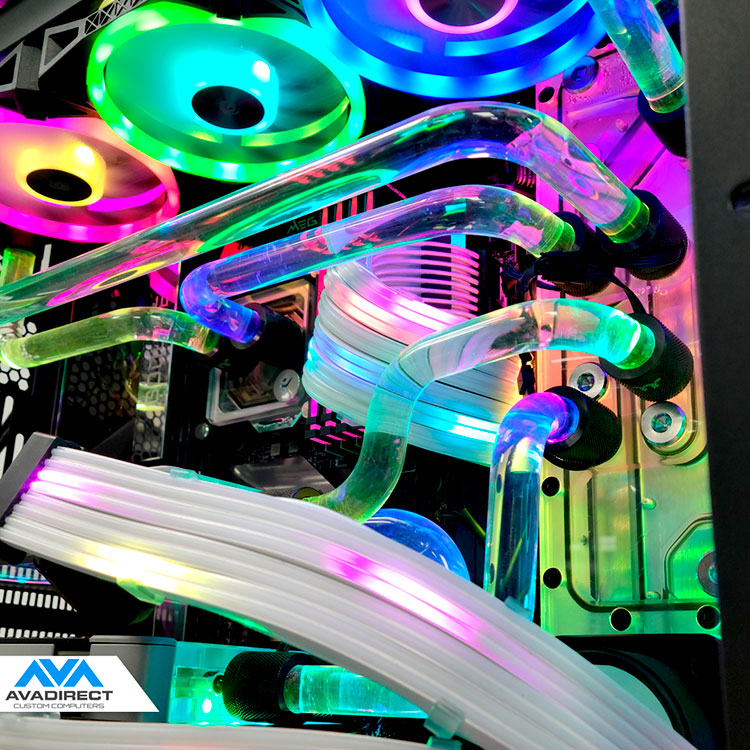 Building an RGB Gaming PC with AVADirect
If you are looking for a new custom gaming PC, or mini gaming PC, with RGB features, well, you are in the right place! We have you covered from color to color. Check out our colorful Blissful PCs for a pink gaming PC or pink mini gaming PC if that interests you. You can also use Instabuilder, our easy PC builder tool, to do all the work by answering a few questions to meet your PC gaming needs. Know what you want? You can use our configurator to assemble all the necessary parts for your PC build… need help? Reach out to our incredible sales team, who can help guide you through every step of getting the gaming PC, gaming mini PC, or workstation of your dreams!