Which is better for custom computers? AMD Ryzen or Intel Processors?
Several years ago, most PCs you ran across had Intel processors, and for good reason. Intel builds solid CPUs with great single core performance. The high single core performance makes them a great choice for custom gaming PCs, laptops, desktop computers, and gaming towers everywhere.
In 2017, AMD shipped their first generation of Ryzen processors. These processors offered great single core performance, but AMD packed these processors with additional cores and threads at a competitive price point to Intel CPUs. AMD Ryzen processors were built to multitask as well as game; at a time when streaming took off. More users were running multiple programs while gaming. If you're a streamer, you're familiar with running your streaming software with overlays, game, stream itself (so you can see chat), music, and more.
Since then, a rivalry was born. Intel has upped their cores and threads to better compete with Ryzen's slight advantage in multitasking. While AMD Ryzen processors strive to match the single-core performance that Intel processors are known for.
As to which is better for your custom computer? It's mostly preference! The equivalent Ryzen and Intel processor should perform marginally the same for most tasks when it comes to custom gaming pcs. You might get a few more frames if you're only gaming on an Intel gaming PC, but if you want to video edit, an AMD Ryzen processor might shave off a minute of rendering. This generation switches things up a tiny bit, so check out our benchmarks below if you're building a custom computer with the latest generation of components.
You'll see bigger differences when it comes to building workstation computers. AMD Ryzen Threadripper processors handle certain tasks much quicker than comparable Intel Xeon processors. While certain software programs perform better with Intel. Our sales team can best advise which workstation processor would best fit your software needs for your computer workstation.
What's the difference between 12th and 13th Gen Intel Processors?
Intel has made the decision with 13th gen to shift the number of cores/threads for each product tier having a general uplift in core count. They have stuck with the P-core/E-core mixed architecture. 13th Intel processors have doubled their e-cores but kept the same amount of PCIE lanes as 12th gen.
13th Gen Intel vs AMD Ryzen 7000 Series CPU Benchmarks
How much wattage do 13th Gen Intel CPUs need? What's the average power draw of Ryzen 7000 series vs Intel 13th Gen Processors?
Both of these processors are drawing a lot more power than last generation. 13th Gen Intel CPUs are drawing a bit more wattage than comparable Ryzen 7000 series processors.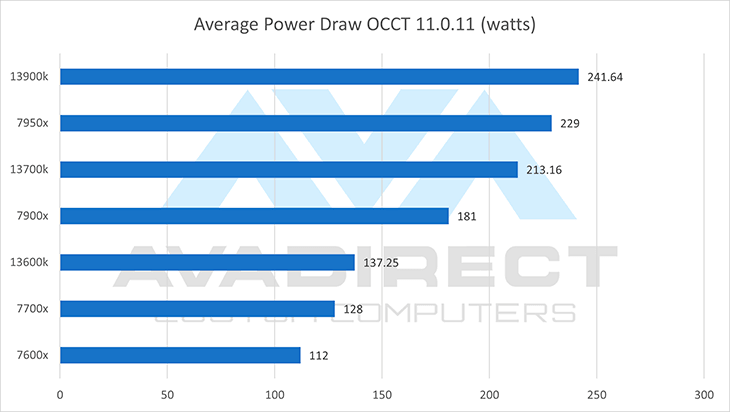 13th Gen Intel Ryzen 7000 Timespy Benchmarks
Timespy favors core count over raw core performance so we see the intel processors having a major advantage in this test.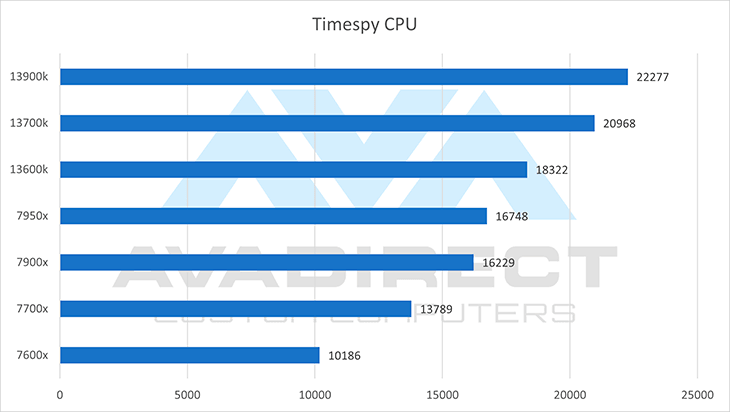 13th Gen Intel vs AMD Ryzen 7000 Series Geekbench Benchmarks
In Geekbench AMD edges out Intel with single core performance, however the multicore scores are almost indistinguishable.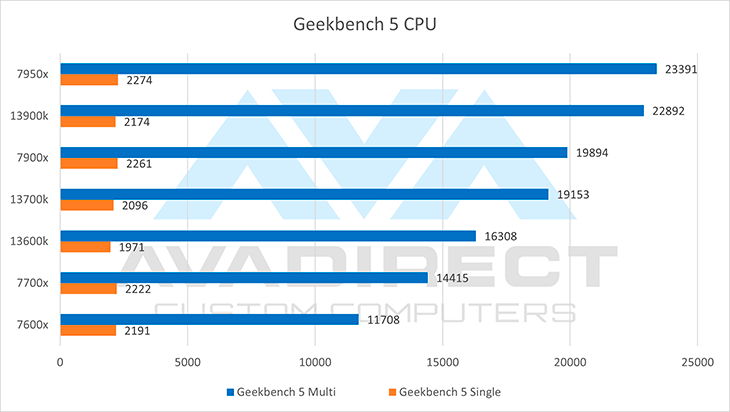 Cinebench 23 Intel 13th Gen vs AMD Ryzen 7000 Series Benchmarks
Cinebench sees Intel performing better in single-core performance. Both AMD Ryzen 7000 and Intel's Raptor Lake perform similarly in multicore performance.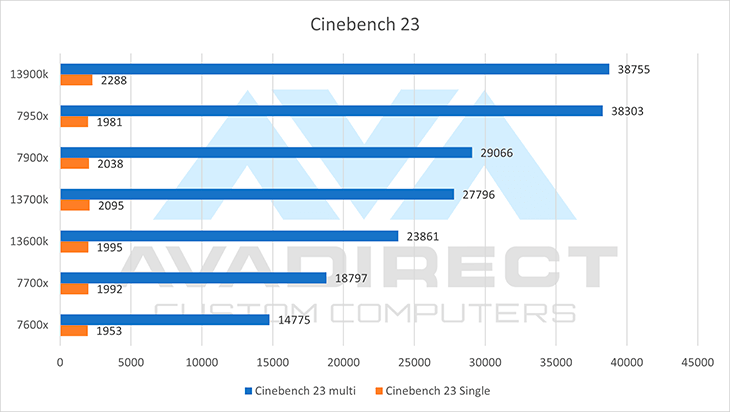 Which is better for gaming? Intel's 13th Gen or Ryzen 7000 Processors?
By locking the settings to 1080p, we can test how the CPUs will perform at max capacity while gaming by not stressing out the RTX 3090Ti. Stressing out the graphics card could lead to inconsistent results when testing processors.
Horizon Zero Dawn, AMD is measurably ahead on average framerates, but Intel has consistently better .1% low scores which is going to translate to more smooth gameplay.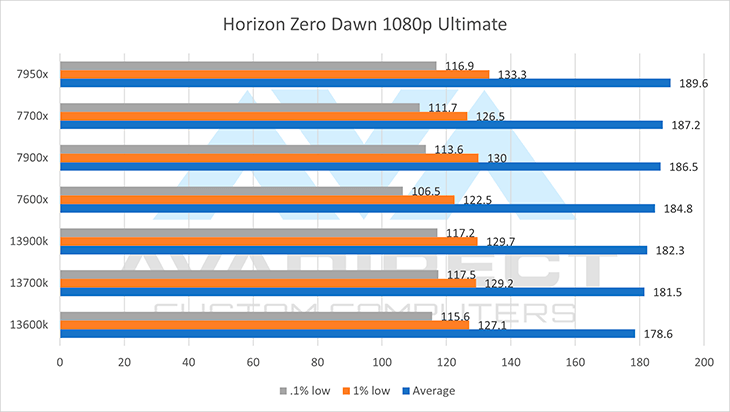 In Metro Exodus Intel is ahead with averages and the .1% lows are pretty comparable. The AMD Ryzen 7950x is an outlier in that it performs slightly worse than lower tier processors, and falls at the bottom of the stack.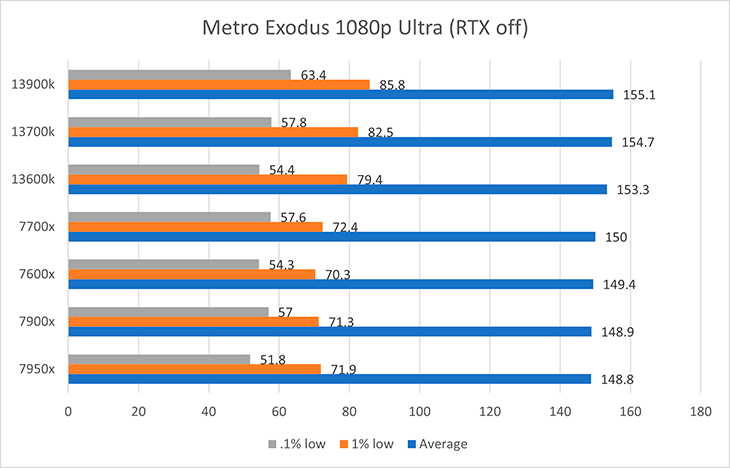 Which is better? Intel 13th Gen or AMD Ryzen 7000 Series CPUs?
Intel has continued with the P-Core + E-core approach, while AMD is still using all performance cores. Efficient Core technology seems to be working for Intel, they're doing much better at keeping at up with Ryzen's multicore performance. However, given the above metrics, we can see that the difference between this generation of processors is marginal when it comes to gaming desktops.
AMD processors feature the newer 5.0 PCIe standard and have 8 more lanes than their intel counterparts, making them a better consideration for budget workstation computers utilizing various add-in cards and NVMEs. Streaming PCs would also benefit.
13th gen Intel still supports DDR4 as well as supporting DDR5. If you're upgrading to the AMD Ryzen series, you'll need DDR5 RAM and a compatible motherboard. You might as well build a whole new PC. If you're heavily invested in DDR4 are looking to upgrade your PC, then 13th Gen Intel's compatibility might be a huge benefit and could help save on upgrade costs.