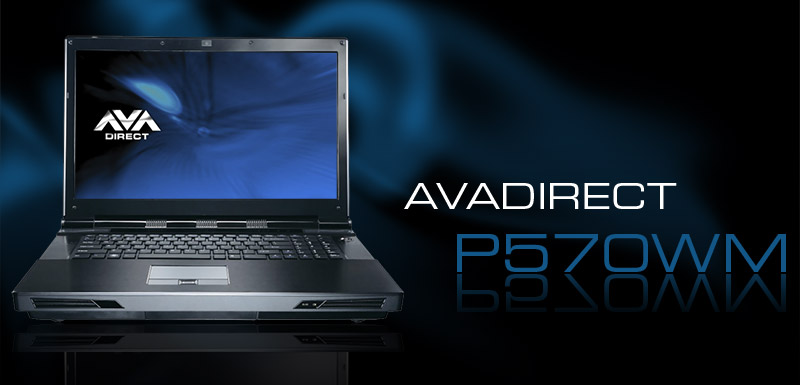 The Clevo P570WM Gaming Notebook is the world's most powerful desktop replacement based on Intel® Core™ i7 processor and Intel® X79 chipset. With support for 6 core CPUs, 1 or 2 NVIDIA® graphics, and 3 storage drives, it's ideal for users who don't want to sacrifice performance for portability.
Features:
Intel® LGA2011 Core™ i7 processor
Intel® Core i7-4960X Extreme support
Overclocking support
NVIDIA® GeForce® GTX 880M
Supports NVIDIA® SLI® technology
Up to three 9.5" hard drives or SSD drives
HDMI output port
Up to 32GB quad channel support
Three USB 3.0 ports
17.3" Full HD glossy display
NVIDIA® Quadro® K5100M Graphics
The NVIDIA® Quadro® K5100M Mobile Workstation graphics is a complete top-to-bottom range of solutions with unmatched performance and quality for the most demanding professionals on the go. From digital content creators on a movie set, to design engineers at a remote plant, to geo-scientists on an oil rig, Quadro mobile graphics processing units (GPUs) are the trusted solution for professional 3D applications
NVIDIA® GeForce® GTX 880M Graphics
GeForce GTX 880M brings elite, next-generation graphics performance to serious gaming notebooks. The new gaming heavyweight, GTX 880M delivers extremely fast and fluid gameplay at the highest settings and resolutions in a lightweight and portable design. With innovative NVIDIA technologies such as PhysX®, TXAA™, ShadowPlay™, and Battery Boost, gaming with a GeForce GTX 880M means you get a full feature set and stunning performance that lasts as long as you want to play.
AMD® Radeon™ R9 M290X graphics
The AMD Radeon™ R9 M290X GPU provides a potent combination of immersive features and performance that you deserve for all your games, applications, and entertainment; while also providing intelligent power features to extend battery life. A powerful, portable graphics solution – ready for all your needs.

Killer™ Wireless-N high-performance Wi-Fi® Adapter
High-performance wireless networking tuned for online games, HD video and high quality audio: Killer™ Wireless-N high-performance Wi-Fi® adapter for notebook PCs is advanced 802.11n module which provides up to 5x the speed for online games, HD video and high quality audio.
SuperSpeed USB 3.0
SuperSpeed USB 3.0 brings significant performance enhancements to the ubiquitous USB standard, while remaining compatible with the old USB 2.0 enabled devices. SuperSpeed USB 3.0 will deliver 10x the data transfer rate of Hi-Speed USB 2.0, as well as improved power efficiency.
eSATA port
eSATA is an external interface for SATA technologies. It competes with FireWire 400 and universal serial bus (USB) 2.0 to provide fast data transfer speeds for external storage devices.
HDMI (High-Definition Multimedia Interface) is the first and only industry-supported, uncompressed, all-digital audio/video interface. By delivering crystal-clear, all-digital audio and video via a single cable, HDMI dramatically simplifies cabling and helps provide consumers with the highest-quality home theater experience. HDMI provides an interface between any audio/video source, such as a set-top box, DVD player, or A/V receiver and an audio and/or video monitor, such as a digital television (DTV), over a single cable. HDMI supports standard, enhanced, or high-definition video, plus multi-channel digital audio on a single cable. It transmits all ATSC HDTV standards and supports 8-channel, 192kHz, uncompressed digital audio and all currently-available compressed formats (such as Dolby Digital and DTS), HDMI 1.3 adds additional support for new lossless digital audio formats Dolby® TrueHD and DTS-HD Master Audio™ with bandwidth to spare to accommodate future enhancements and requirements.
Customize it for your needs
We offer an extensive selection of notebook components through the convenient system configurators allowing to build broad spectrum of custom notebooks up to the high-end level. Starting configurations of our custom notebooks include notebook barebone, CPU, memory, hard drive and optical drive. By using the configurator located on this page you can upgrade and downgrade components to fit this purchase into your budget and requirements. Besides the configurator, you can also add other components to your cart and we will install them as well. Our custom notebooks come assembled and tested with warranty. Now we also offer custom painting for all our notebooks.
Why buy custom notebook from us?
There are many companies on the market who offer customized white-box notebook solutions based on notebook barebones from such well-known manufacturers as Clevo, ASUS, MSI, Compal and others. Compared to others, besides regular assembly services, we also offer a wider variety of components selection and customization options, guaranteed professional software installation, troubleshooting and extensive testing services, backed up by a full cycle of sale and post-sale product support. All these benefits are already included in the price of all our notebooks. Configuring and buying your fully custom personalized notebook configuration could be a risky business, but we can assure you that the business approach that we execute is a guarantee of eliminating all of those risks for all our customers. Overall, there are three key factors that define who we are: low pricing, high quality and excellent professional reputation.
Note: For full specifications see notebook barebone details.