Technology Overview
The Nehalem-EP Platform is Intel's next generation technology that takes server computing to unprecedented heights. Offering up to 2.25x more performance than the last generation Xeon CPUs and over 3x the bandwidth, this new platform has power to spare. With new advanced options such as native support for SSD and 10 GbE, your server systems stay atop of the technology curve. Intelligent hardware design has created the most efficient server CPU, lowering energy and IT costs. A flexible design architecture allows the same server to fulfill multiple roles saving design costs and an overcall lower TCO than previous designs.
Server Performance Benchmarks
Performance is improved drastically compared to last generation platforms with faster clock speeds, enhanced bandwidth, and a more efficient CPU architecture.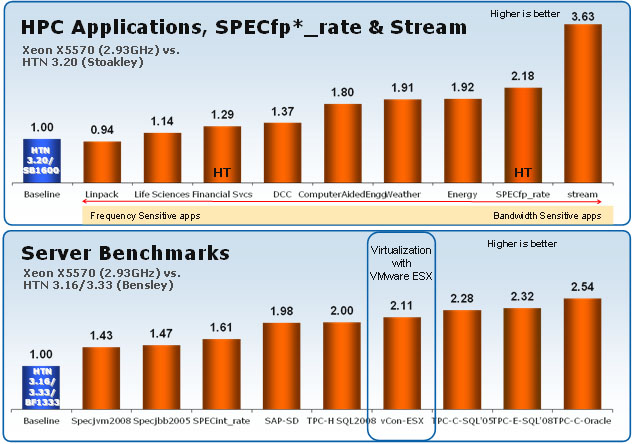 Data source: Intel Internal measurements – Nov 2008; For Server SPECjbb2005, SPECint_rate on HTN 3.33; Others on HTN 3.16 Performance tests and ratings are measured using specific computer systems and/or components and reflect the approximate performance of Intel products as measured by those tests. Any difference in system hardware or software design or configuration may affect actual performance. Buyers should consult other sources of information to evaluate the performance of systems or components they are considering purchasing. For more information on performance tests and on the performance of Intel products, visit http://www.intel.com/performance/resources/limits.htm. Copyright © 2008, Intel Corporation.
Intel Xeon 5500 Series Processors
For performance that adapts to your application demands, intelligently scales energy use per performance demands, and offers best-in-class virtualization, turn to a more intelligent enterprise server processor—the Intel® Xeon® processor 5500 series—automatically and intelligently adjusting server performance according to your application needs.
Go inside the latest innovations in Intel® Turbo Boost Technology, Intel® QuickPath Technology, and Intel® Hyper–Threading Technology. View the demo:
The Intel® Xeon® processor 5500 series includes an integrated memory controller supporting high-speed, three-channel DDR3 memory. DDR3 enables higher capacity, higher performance, and lower power than DDR2-based systems. This platform supports multiple DDR3 DIMM types:
Registered DIMMs (RDIMM)
ECC unbuffered DIMMs (UDIMM ECC)
Unbuffered DIMMs (UDIMM)
MetaRAM DIMMs
With more differentiation between the processor lines, choose the CPU and memory based upon your workload and environment. Buying a higher ROI leads to decreased TCO by 20% and increasing performance by 30%.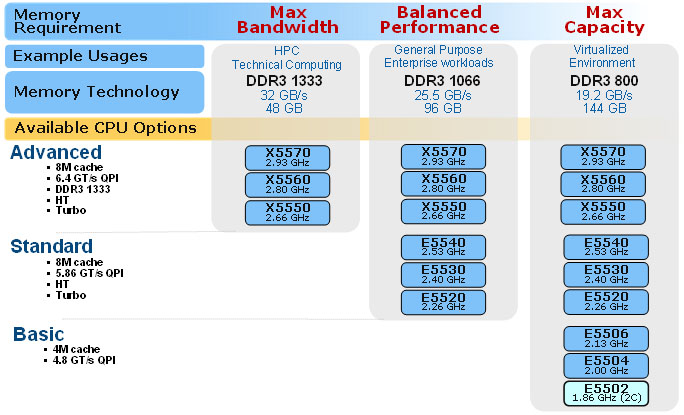 Intel 5500 Series Tylersburg Chipsets
The 5500 Series chipset (codename "Tylersburg") is the new point of contact for the Xeon 5500 series processors. Utilizing the new QuickPath Connect technology with a maximum bandwidth of 51.2 GB/s (25.6 GB/s per CPU), the hub can supply more than enough data bandwidth for powerful video cards, extremely fast SSD and SAS hard drives, and new 10 GbE adapters.
Benefits of the new architecture:
Decreased memory latency (on-die memory controller)
Support for HyperThreading
Faster and more efficient power states
Intel® VT for Directed I/O: (chipset) - speeds data movement through direct VM (Virtual Machine) to device assignment
Need more information about Intel Nehalem-EP Server Platform?
If you need more detailed information about Intel Nehalem-EP Server Platform please do not hesitate to call us at 1-866-766-4629 for assistance over the phone! Also available is our live chat support, or, for questions which are not time critical, one can always use our support contact form! We here at AVADirect understand there is a growing need in our industry for expert advice. This is especially true when configuring computing solutions and we are proud to have a staff of extremely knowledgeable consultants. These experts are always ready to assist our customers with any questions they may have regarding the latest in information technology.
AVADirect, the advantage of Custom Computing:
A buyer choosing AVADirect Custom Computers as a provider for their technology needs will see we have extremely competitive pricing right away, but there are other advantages which may not be so obvious. We offer lifetime, toll free technical support, and an inclusive, three year warranty for our custom systems. Our expert assemblers give each machine we build the personal attention required to make a system special. Our custom configurations are not just more run-of-the-mill assembly line PCs, and unlike many competitors, we dedicate time and effort to make each one shine. Using an extensive and rigorous testing regimen, we ensure that every computer shipped is as reliable and trouble-free as possible.