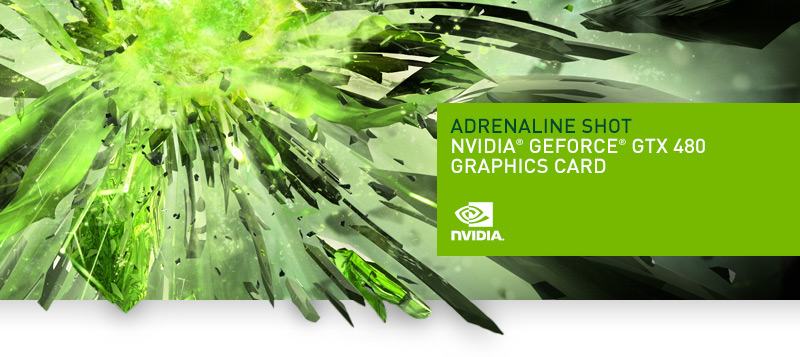 NEXT-GENERATION GAMING HAS ARRIVED
Give your games an adrenaline shot with the fastest GPU on the planet. Experience heart-pounding, cinematic visuals in stereoscopic 3D with the combined power of DirectX 11, NVIDIA® PhysX® and NVIDIA® 3D Vision™ Surround1 technologies. NVIDIA® GeForce® GTX 480: pure adrenaline meets visual bliss.
1 NVIDIA 3D Vision Surround requires NVIDIA release 256 driver, two or more graphics cards in NVIDIA SLI configuration, 3D Vision glasses, and 3D Vision-Ready displays. See www.nvidia.com/surround for more information.
©2010 NVIDIA Corporation. NVIDIA, the NVIDIA logo, PhysX, CUDA, SLI, 3D Vision, 3D Vision Surround, and GeForce are trademarks and/or registered trademarks of NVIDIA Corporation in the United States and other countries. All other trademarks are the property of their respective owners. All rights reserved.
Need more information about NVIDIA GeForce GTX 480 Graphics Card?
If you need more detailed information about NVIDIA GeForce GTX 480 Graphics Card, please do not hesitate to call us at 1-866-766-4629 for phone assistance or use Live Support or contact form on our website. In this age it is hard to be profound in the nowadays computer technologies and there is growing need in experts advice when buying computer products. AVADirect is proud to have knowledgeable consultants that are always ready to provide technical information and advice on all of the products, services and related technologies that we offer.
Advantages of AVADirect Custom Computers
Our pricing is very competitive. We offer toll free number for technical support and up to 3 years of warranty on all brand new computer systems. All items that need to be assembled are getting assembled with as much as personal attention as possible. Unlike some other companies we do extended testing of all assembled products before shipping.