AVADirect Custom Computers - Who We Are?
AVADirect Custom Computers is a custom computer manufacturing company located on the outskirts of Cleveland, Ohio. Our company specializes in building all kinds of custom computer systems including: Windows or Linux manageable and highly-reliable servers, high-end workstations and gaming systems, business PCs, and notebooks. D&B D-U-N-S number is 111374455.
Our Mission
To provide finest quality custom PC's, workstations, notebooks and servers at the widest selection of components and low price.
Our Advantages
Our customers define us by: competitive pricing, ability to provide most custom configurations and fastest order processing to meet toughest deadlines even on large orders. Ask us to bid on your next project, we guarantee an absolute success and complete satisfaction.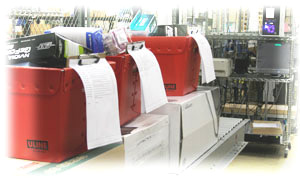 AVADirect Custom Computers vs Mass Produced Computers
We would like to explain exactly what a custom computer is so you can understand why our company is different. Large computer retailers make money by standardizing their designs and selling the same computer over and over. Customers are not informed about any of the parts that are used to make their computer, and they usually have very few real customization options.

For example, most people have absolutely no idea what brand of motherboard is in their desktop computer. Not a big deal you might think. As long as the computer is running good, who really cares what motherboard they have? While this may seem like trivia at the time you are purchasing a computer, the type of motherboard selected by the manufacturer will have a very big impact on the performance of the computer. Also, the type of motherboard determines what upgrades can be added to the computer in the future.

As custom computer builders, we not only help you decide which is the best motherboard to use, we help you design a complete computer system that is customized for your tasks. As a result, you as a customer receive a computer that was built specifically for you, instead of a mass marketed computer that is built for anyone who buys it.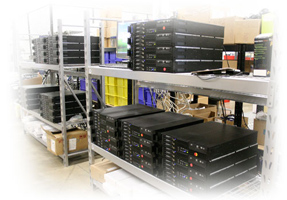 It's All About Quality
In addition to custom building a computer specifically for your needs, we also include all of the following services with every computer we build.

You get all manufacturer's documentation and driver disks for all parts in your computer (no more wondering what motherboard you have)
All systems are burned in and tested for at least 24 hours before shipping
Free technical support for as long as you own your computer
A free labor and 3-year parts warranty with all new systems (ask the big manufacturers what their warranties are)
30-day money-back guarantee on complete systems

ISO 9001:2008 Quality Management System Certification

AVADirect has been assessed and deemed to comply with the provisions of the I.S. EN ISO 9001:2008 standard in respect of the following scope of operations: The provision of custom computer systems, servers, computer workstations, gaming computers, personal computers, notebooks, electronics, computer repairs and data recovery.

To view Freedom USA, Inc. DBA AVADirect Custom Computers Certificate of Registration of Quality Management System to I.S. EN ISO 9001:2008, please click here.

The ISO 9001:2008 is a part of ISO 9000 family of standards that represents an international consensus on good quality management practices.

ISO 9001:2008 standard specifies requirements for a quality management system where an organization:

needs to demonstrate its ability to consistently provide product that meets customer and applicable statutory and regulatory requirements, and
aims to enhance customer satisfaction through the effective application of the system, including processes for continual improvement of the system and the assurance of conformity to customer and applicable statutory and regulatory requirements.

With implementation of ISO 9001:2008 standard requirements all our key business practices such as record keeping, quality control, and internal review are certified by a 3rd party auditor. By following a formalized and tested business policies, AVADirect Custom Computers continues to improve upon its quality, service, and products.

ANSI/ESD 20:20 Standard Compliance

Our production facility is fully compliant with strict requirements of ANSI/ESD 20:20 standard. ANSI/ESD 20:20 is a program set forth by ESD Association to include a strict policy regarding usage of ESD (Electrostatic Discharge) sensitive components. This program covers materials, policies, and workforce actions to control and eliminate ESD inside the workplace.

By following the strict policies of ANSI/ESD 20:20 standard, we can assure our customers that their components have been properly handled. The compliance with the ANSI/ESD 20:20 standard ultimately lowers failures caused by ESD (Electrostatic Discharge) and leads to a more customer-friendly business.

We are also a member of ESD (Electrostatic Discharge) Association. Founded in 1982, the ESD Association is a professional voluntary association dedicated to advancing the theory and practice of electrostatic discharge (ESD) avoidance.
Specialties
Gaming PCs - In 2003, we began building specialized gaming computers. As we have several gaming enthusiasts working for us, we can put together a gaming system that you will be proud of. From the latest quad-core / dual-core or dual CPU, SLI multi GPU graphics technology powered, liquid cooled and custom wired monster; to an optimized single CPU budget system; we have the know-how and experience to keep you ahead of the pack.

We also have all kinds of different accessories and choices you can make to customize your gaming system. Want a different computer case? Some UV lights? A better sound card? A gaming mouse? Just say so, we've got it. Before shipping all Gaming systems are tested with the 3DMarks benchmarking software for at least 24 hours, to make sure your system is ready for some fierce gaming action right out of the box.

Workstations and Desktops - We sell many different types of customized computers for home and office use. From specialized CAD systems to home multimedia PCs, we can build a superior system for you. Tell us what you want and we'll build you a system to do the job.

Servers - In addition to customizing individual PCs, we also customize all Windows and Linux servers we build. From small business servers to massive rackmount server cabinets, we make sure your company gets the solution it needs to get the job done. Whether you have a specific server system in mind, or need us to custom design a complex server solution for you, we have the experience and skill to build what you need.

Barebones Systems and Parts - If you want to fix it or build it yourself, we're a good place to visit. We have a complete line of motherboards, barebone systems, video cards, hard drives, etc. You want it, we've got it. Need some help picking out the right part? No problem, call our tech support people.
Clientele
AVADirect's unique ability to create custom computers to the exact specifications of the consumer at competitive pricing, while meeting the harshest deadlines of corporate America, has proven to be a significant edge within the industry and has defined us with our clients.

Our customers cover a broad spectrum, ranging from businesses and government agencies to educational institutions and general consumers. Provided is a list of our notable accounts:
GSA Schedule
The General Services Administration (GSA) is an independent agency of the United States government, established to help manage and support the basic functioning of federal agencies. GSA also assists with procurement work for other government agencies. As part of this effort, it maintains the large GSA Schedule, which other agencies can use to buy goods and services. Procurement managers from government agencies can view these agreements and make purchases from the GSA Schedule knowing that all legal obligations have been taken care of by GSA.

By becoming a GSA Schedule contractor (Contract# GS-35F-0159V) we can provide GSA customers with the latest technology and quality supplies and services, conveniently, and at most favored customer prices.
The NASA SEWP (Solutions for Enterprise-Wide Procurement)
The NASA SEWP (Solutions for Enterprise-Wide Procurement) GWAC (Government-Wide Acquisition Contract) provides the latest in Information Technology (IT) products for all Federal Agencies. The statutory authority allowing usage of the SEWP contracts by the entire Federal Government is NASA's designation as an Executive Agent by OMB based on the Information Technology Management Reform Act (ITMRA) of 1996, now the Clinger Cohen Act.
Industry Partners
AVADirect Custom Computers is partnered with some of the biggest suppliers in the industry. We are an Intel Premier Provider, an AMD Solution Provider Program gold member, an US reseller of SuperMicro, Tyan, Flextronics (former Iwill), ASUS, and Microstar (MSI) server products.

Intel® Premier Provider (IPP) - AVADirect is an Intel Premier Provider (IPP). Intel® Premier Providers are recognized by Intel as preferred providers of Intel technology-based solutions. Premier providers are validated by Intel through training, industry certifications and demonstrated customer implementations.

AMD Solution Provider Program (Gold Member) - AMD has recognized our strong commitment to AMD products by including our company as a gold member in its partnership program. As a partner, AVADirect receives additional AMD training and technical support. In addition to AMD's exclusive online resources, AMD also provides AVADirect with prioritized new product delivery so that our customers always get the benefit of the latest technology.

Microsoft Certified Partner - AVADirect has become the Certified Microsoft OEM System Builder. This programs helps our technical support, sales and development teams to better serve/support our customers, by having access to OEM beta software, Microsoft support and training. The OEM program allows us to provide a value added service with Genuine Microsoft software and hardware.