The AMD Advantage
Get Your AVADirect AMD-Powered Custom PC Today
Looking For a New Custom Computer?
The Choice is AVADirect + AMD. For the Enthusiast in Us All.
As an official partner of AMD, AVADirect provides the most-up-to-date AMD products on the market at the lowest possible prices. Experience incredible power with some of the most advanced processors and graphics cards available. Choose from the AMD Ryzen Threadripper™ series to beef up your workstation's performance or the Ryzen™ series CPUs for all your gaming needs.
Configure yours now
Professional overclocking
Let us optimize the processor and graphics card to run faster, while ensuring reliability, staility, and longevity.
Extensive testing
Each AVADirect PC is thoroughly tested for up to 72 hours to ensure reliability and stability.
True custom
Create a custom computer unique to you by specifying the exact components you need in your system. Don't see a component offered? What custom designs or physical modifications? Call or email!
Zero bloatware
AVADirect computers only come with the software you specify - no programs, utilities or apps you won't use.
Power Your Custom Workstation
With AMD Ryzen™ Threadripper™ CPUs
Get unprecedented multitasking power to edit footage, animate characters, and fine tune a design without sacrificing your vision. AMD Threadripper CPUs are extremely powerful and an excellent choice for your next workstation computer.
Watch video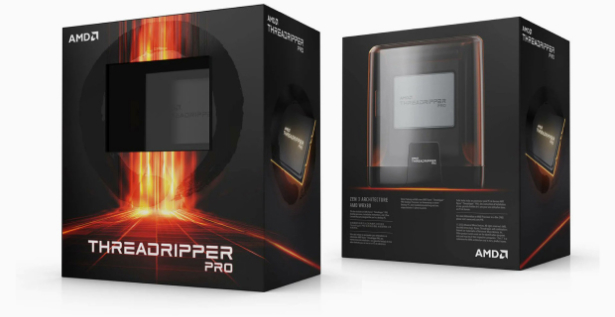 Why AMD Ryzen™ Threadripper™ CPUs are the right choice for your workstation PC
Render Time Irrelevant Unlock Your Potential With AMD Ryzen™ Threadripper™ Processors
Featuring up to 64 cores, 128 threads and 288MB of cache, AMD Ryzen Threadripper processor lets you rip through your most intimidating projects with sophisticated machine intelligence and improved architecture to empower digital creators. See how much faster you'll be able to render on your new AVADirect Threadripper Editing PC below.
Adobe After Effects (higher is better)2
AMD Ryzen™ Threadripper™ PRO 5975WX | 32 Core
Intel® Xeon® W-3365 | 32 Core
Unreal Engine Compile (seconds)3
AMD Ryzen™ Threadripper™ PRO 5995WX | 64 Core
Intel® Xeon® W-3375 | 38 Core
Autodesk Revit RFO Model Creation (seconds)4
AMD Ryzen™ Threadripper™ PRO 5955WX | 16 Core
Intel® Xeon® W-3335 | 16 Core
Chaos Group V-Ray (higher is better)5
AMD Ryzen™ Threadripper™ PRO 5995WX | 64 Core
Intel® Xeon® W-3375 | 38 Core
AMD SenseMI Technology
performance that thinks
Every AMD Ryzen™ processor features AMD SenseMI Technology, a series of smart "senses" that work
together to learn about your applications and tune performance in the blink of an eye.1
Extended Frequency
Range 2 (XFR 2)
Take advantage of premium cooling to improve performance.
Precision Boost 2
Performance is adjusted in real time to meet demands of your game or workload.
Neural Net Prediction
True Machine Intelligence anticipates your system's needs, improving workflow and boosting performance.
Pure Power
Sensors monitor CPU temperature, resource usage, and power draw to bring cool and quiet operation
Smart Prefetch
Algorithms understand your applications and anticipate what data they might need, enabling fast and responsive computing.
Buy your AVADirect AMD Ryzen Threadripper powered workstation
Why choose Ryzen for your next PC?
For fast gameplay and incredible performance
Build your rig with an AMD Ryzen™ Series processor to unlock revolutionary performance. From up to 16 "Zen 4" cores and 32 threads, boost clocks of up to 5.7GHz1, and 80MB cache, Ryzen keeps you ahead of the game.
Watch video

Build Your Next Gaming PC with AMD Ryzen Series CPUs
Discover AMD Ryzen™ desktop processors and experience performance like never before.
Gamers, streamers, creators: use the modern, intelligent, responsive Ryzen™ processor to bring your imagination to life.
AMD Ryzen™ 7900X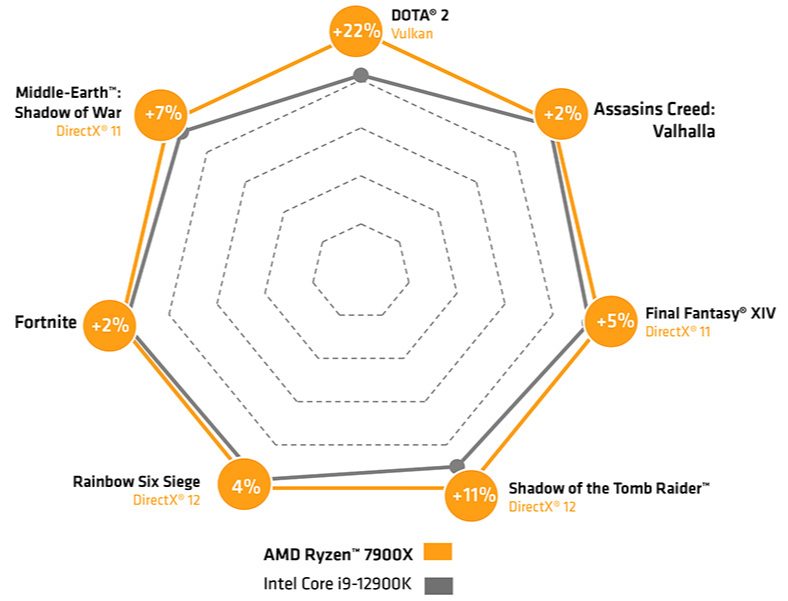 AMD Ryzen™ 9 5900X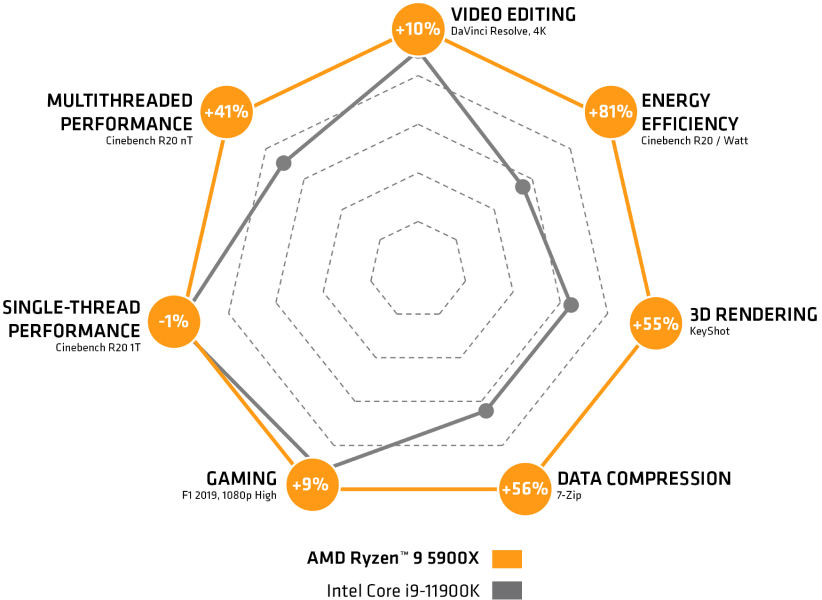 AMD Ryzen™ 7 5800X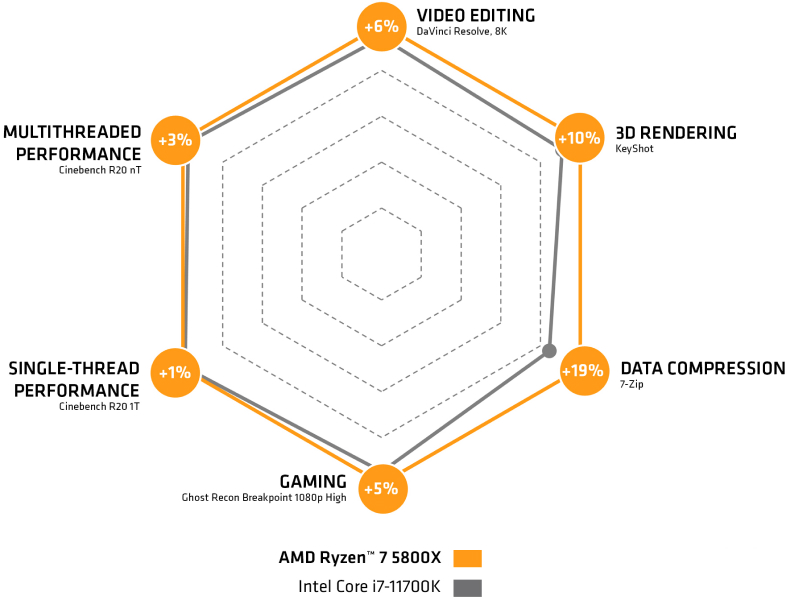 AMD Ryzen™ 5 5600X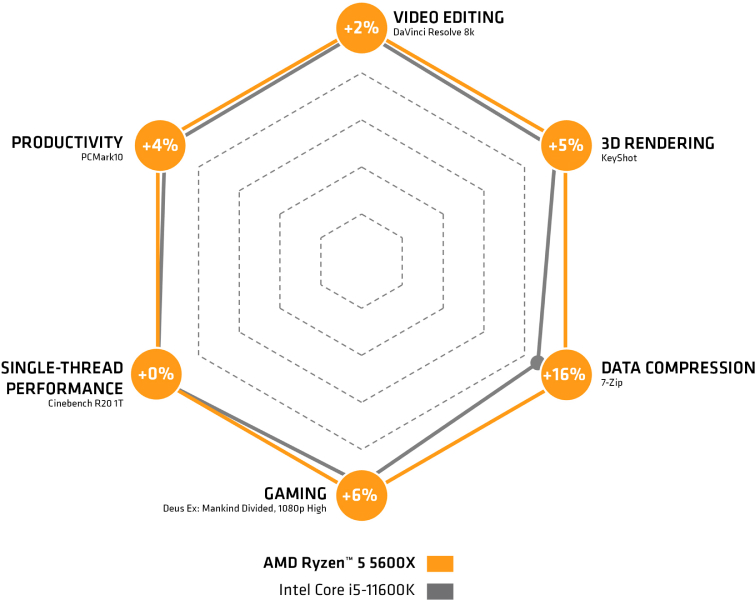 1. Testing done by AMD performance labs April 4 2022 on RX 6950 XT, RX 6900 XT, RX 6800 XT, RX 6800 on 21.50-220111a driver and AMD Ryzen 7 5800X3D processor, 32GB DDR4-3600MHz, Win10 Pro 64. Following games were tested at 4K: Assassin's Creed Odyssey (DX 11, Ultra High); Borderlands 3 (DX12, Badass); Death Stranding (DX12, Very High); Divison 2 (DX12, Ultra); Doom Eternal (Vulkan, Ultra Nightmare); Far Cry 6 (DX12, Ultra); Gears 5 (DX12, Ultra); Metro Exodus (DX12, Extreme); Shadow of the Tomb Raider (DX12, Highest); Wolfenstein: Young Blood (Vulken, Mein Leben). Performance may vary. Performance may vary.
Why Buy Radeon?
For the Content Creators
If you demand stunning visuals, reliable performance and powerful experiences, count on AMD Radeon products to deliver on all three counts with options at every price point and need.
Watch video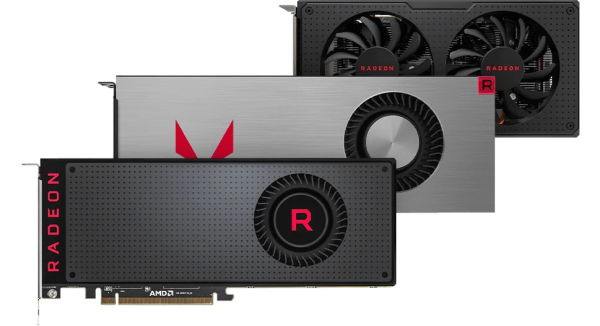 A Graphic cards for Gamers, Creators, and Enthusiasts
Extraordinary Creation. Extreme Gaming.
Make breath-taking visuals, unwavering performance and surgical levels of detail your new standard thanks to advanced GPU multi-threading, optimized for the latest DirectX®12 and Vulkan® titles. AMD Radeon™ graphics bring you the ultimate gaming experience and performance, whether you're playing the latest AAA titles or bring your creations to life with faster render times.
AMD RADEON™ RX 7900 XTX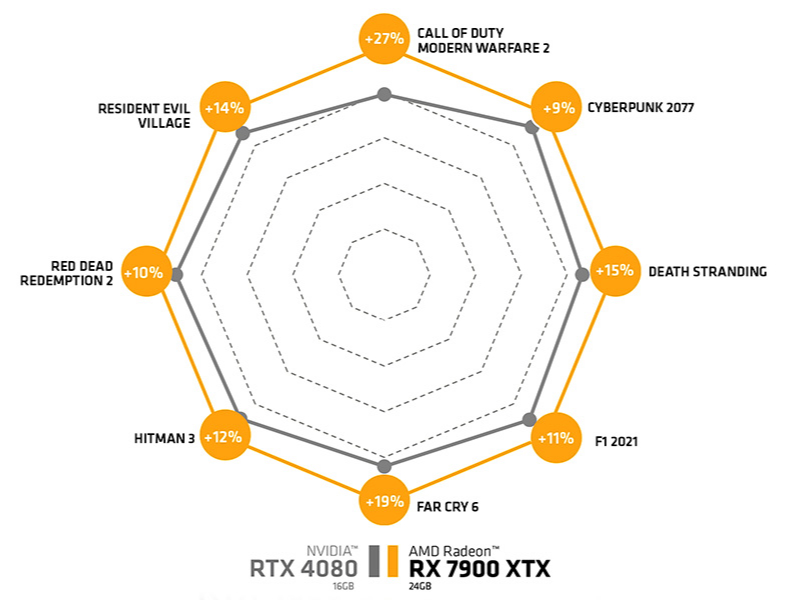 AMD RADEON™ RX 6950 XT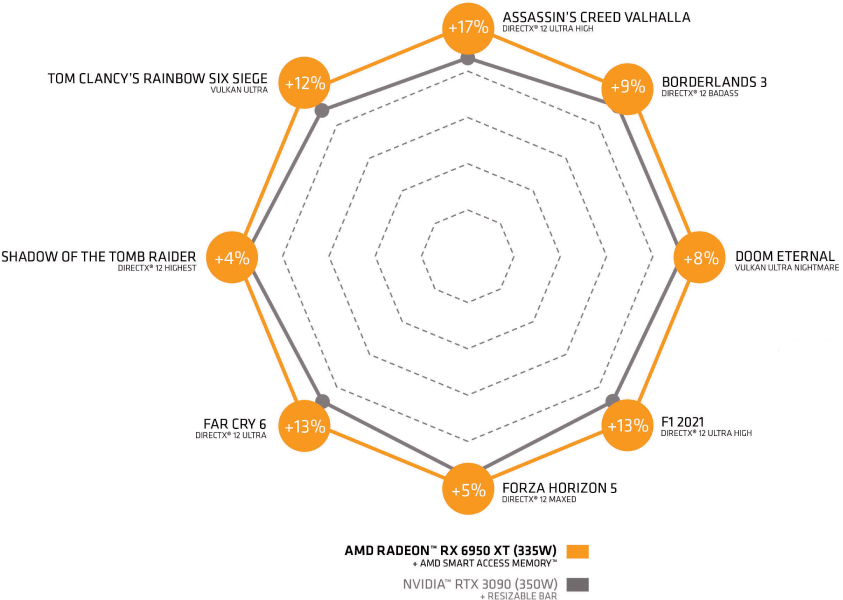 AMD RADEON™ RX 6750 XT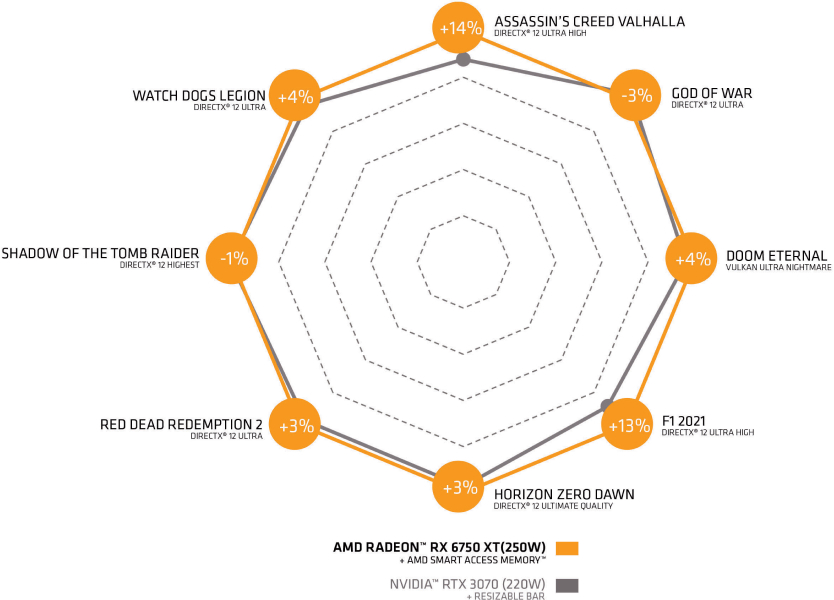 AMD RADEON™ RX 6650 XT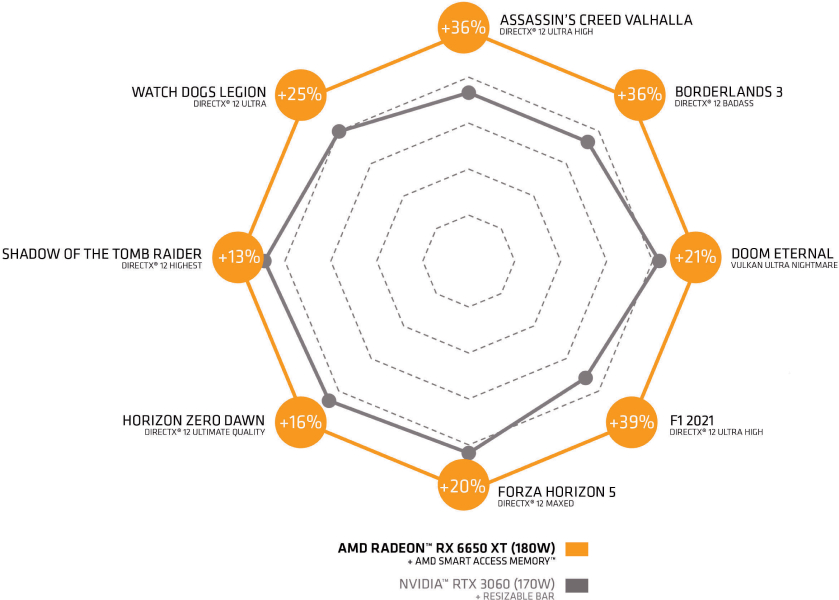 1. R5K-004: Testing by AMD performance labs as of 09/01/2020 with a Ryzen 9 5900X processor vs a Core i9-10900K configured with NVIDIA GeForce GTX 2080 Ti graphics, Samsung 970 Pro SSD, 2X8 DDR4-3600, Windows 10 and a Noctua NH-D15s cooler. Single-core performance evaluated with Cinebench R20 1T benchmark. Results may vary. R5K-004
R5K-007: Testing by AMD Performance Labs as of 09/01/2020 using Cinebench R20 nT versus system wall power during full load CPU test and an open-air test bench with no additional power draw sources using a Core i9-10900K, Ryzen 9 3900XT, Ryzen 9 5900X, Ryzen 9 3950X, and a Ryzen 9 5950X configured with: 2x8GB DDR4-3600, GeForce RTX 2080 Ti, Samsung 970 Pro SSD, Noctua NH-D15s cooler. Results may vary. R5K-007
R5K-010: Testing by AMD performance labs as of 09/01/2020 measuring the Gaming performance of a Ryzen 9 5900X vs a Core i9-10900K in 11 popular titles at 1920x1080, the High image quality preset, and the newest graphics API available for each title (e.g. DirectX® 12 or Vulkan™ over DirectX® 11, or DirectX® 11 over DirectX® 9). Systems configured with a GeForce RTX 2080 Ti (451.77), 2x8GB DDR4-3600, Noctua NH-D15s, and Windows 10 May 2020 Update (build 2004) in all titles. Results may vary. R5K-010
R5K-033: Testing by AMD Performance Labs as of September 23, 2020 using a Ryzen 7 5800X, Ryzen 9 5900X, Ryzen 9 5950X and Core i9-10900K configured with DDR4-3600C16 and NVIDIA GeForce RTX 2080 Ti in AutoCAD, Revit 2020 and SOLIDWORKS 2019. Benchmarks run at default settings. R5K-033
R5K-038: Testing by AMD Performance Labs as of September 23, 2020 using a Ryzen 9 5900X and Intel Core i9-10900K configured with DDR4-3600C16 and NVIDIA GeForce RTX 2080 Ti